Two years ago I got my first gaming pc, I went to a local hardware store ordered all of the components and asked them to build it for me since I was still pretty insecure about [mess] something up while building it.
After 1 year and a half I noticed that after around a full day on my pc my Memory percentage in the task manager would go way above 60%, when it was never even above 30% (with gaming around 50%). Now 2 years have passed and the problem still persist yet even more noticeably. Whenever I turn my pc on or restart it, the starting Memory percentage is already at around 40% and after a day it goes up to 80-99%. Which makes everything more laggy. It's gotten to the point where it's annoying since the frame drops and lag spikes happen when I'm in game.
I clean my PC regularly every month, I did a Windows memory diagnostic 4 months ago and no error was found. I also get an error notification whenever I try to restart my PC after let's say two days of leaving it turned on.
My PC specs: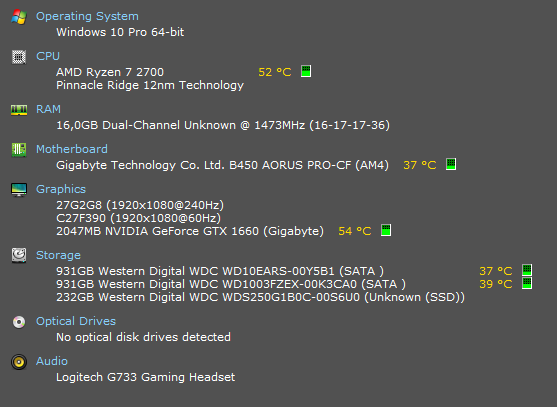 Closer up RAM information: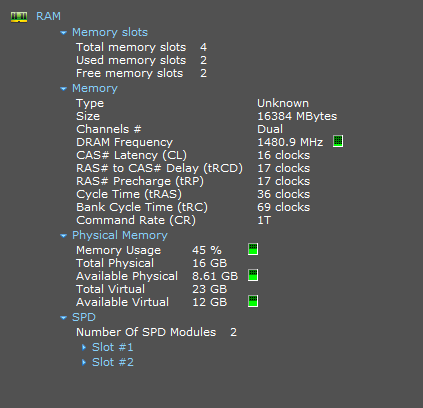 The part that confuses me the most is the fact that it says 'Total Physical 16GB' and then in 'Available Physical 8.61GB'. Could there be a problem on one of my RAM sticks? Could it be any software interfering with it? Could the frequency be too high/low?
I would really appreciate any help I could get here. Any further questions anyone might have I will try to answer as fast as possible as I really do want an explanation to this problem. If I don't find an actual solution I will probably go replace the RAM stick or use the 5 year warranty I got with them building it.
Thank you for taking the time out of your day to read this.
-Kat
Last edited by a moderator: