Community Manager
Staff member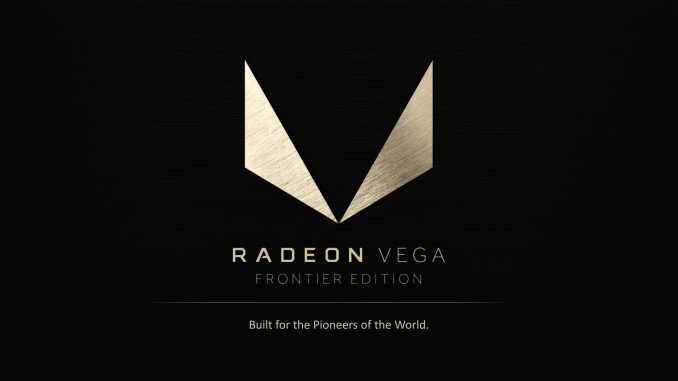 Welcome Community, to the Official AMD Vega MegaThread!
**Updated 6/19/2017**
This thread serves as the primary discussion thread for ALL Vega information and resources. While discussing, please remember to stay within the guidelines set by Tom's Hardware and above all,
DO NOT start a flame war.
AMD announced
Radeon Vega
earlier this year and followed up with news of its Vega Frontier Edition at its 2017 Financial Analyst Day. AMD claims the Frontier Edition is the "world's first" GPU geared for AI (Artificial Intelligence), creatives, and science pioneers.
Pricing
Radeon Vega Frontier Edition will retail at $1199 for the air cooled model and $1799 for the liquid cooled card.
Release Date
The Vega Frontier Edition is slated for release on June 27th, 2017
Memory Architecture
The card features 16GB of HBC (High Bandwidth Cache), which is AMD's new term for HBM (High Bandwidth Memory). The new card also features support for 8K displays, and it can access up to 256TB of virtual memory. This voluminous capacity is useful for crunching, video processing, and deep learning algorithms.

The Vega NCU (Next-Generation Compute Unit)
AMD is updating and revamping it's compute engine. The focus this time around is on higher clock speeds as well as an increased amount of IPCs. The NCU is very much a jack of all trades designed to excel no matter the application. Consoles, datacenters, and PC gamers all stand to benefit from the Vega's improved Compute Engine.
Performance
The Vega reveal did have some preview boards on hand, demoing id Software's
Doom
at 4K resolution under its most taxing detail settings. The preview board was able to t hit 70+ FPS despite having optimized software. Many in the industry expect the Vega cards to land somewhere between a 1080 and Titan X performance wise.
Performance chart courtesy of AnandTech
News and Future Updates
AMD shared some basic performance data on its blog
and provided a rough overview of the new Frontier Edition.
■Machine learning: Together with AMD's ROCm open software platform, Radeon Vega Frontier Edition enables developers to tap into the power of Vega for machine learning algorithm development. Frontier Edition delivers more than 50 percent more performance than today's most powerful machine learning GPUs.
■Advanced visualization: Radon Vega Frontier Edition provides the performance required to drive increasingly large and complex models for real-time visualization, physically-based rendering and virtual reality through the design phase as well as rendering phase of product development.
■VR workloads: Radeon Vega Frontier Edition is ideal for VR content creation supporting AMD's LiquidVR technology to deliver the gripping content, advanced visual comfort and compatibility needed for next-generation VR experiences.
Revolutionized game design workflows. Radeon Vega Frontier Edition simplifies and accelerates game creation by providing a single GPU optimized for every stage of a game developer's workflow, from asset production to playtesting and performance optimization.