Hello,
I recently purchased a Asrock Rack X470D4U for testing purpose. I'm using a 3700X with it.
The NVMe slots are PCIe Gen2 x4 & PCIe Gen3 x2. So, It was reaching 1GB/s-1.1GB/s.
So, I thought to use some NVMe adapters to gain better speed. There are 3 PCIe Gen3 Slots, one x16, another x4 & another x8.
In all the slots, the adapter gets 1.2GB/s (~ 9.6 Gbit/s) & not more than that. I'm using a Transcend 220s 512GB which should be able to reach 2.5GB/s.
I'm assuming a Link Speed Limitation. There is an option to switch the PCIe from chipset to CPU but after enabling it, the system doesn't start. I need to reset the BIOS to get it back. I'm using the Latest BIOS & BMC Version.
Can anyone find the issue here ??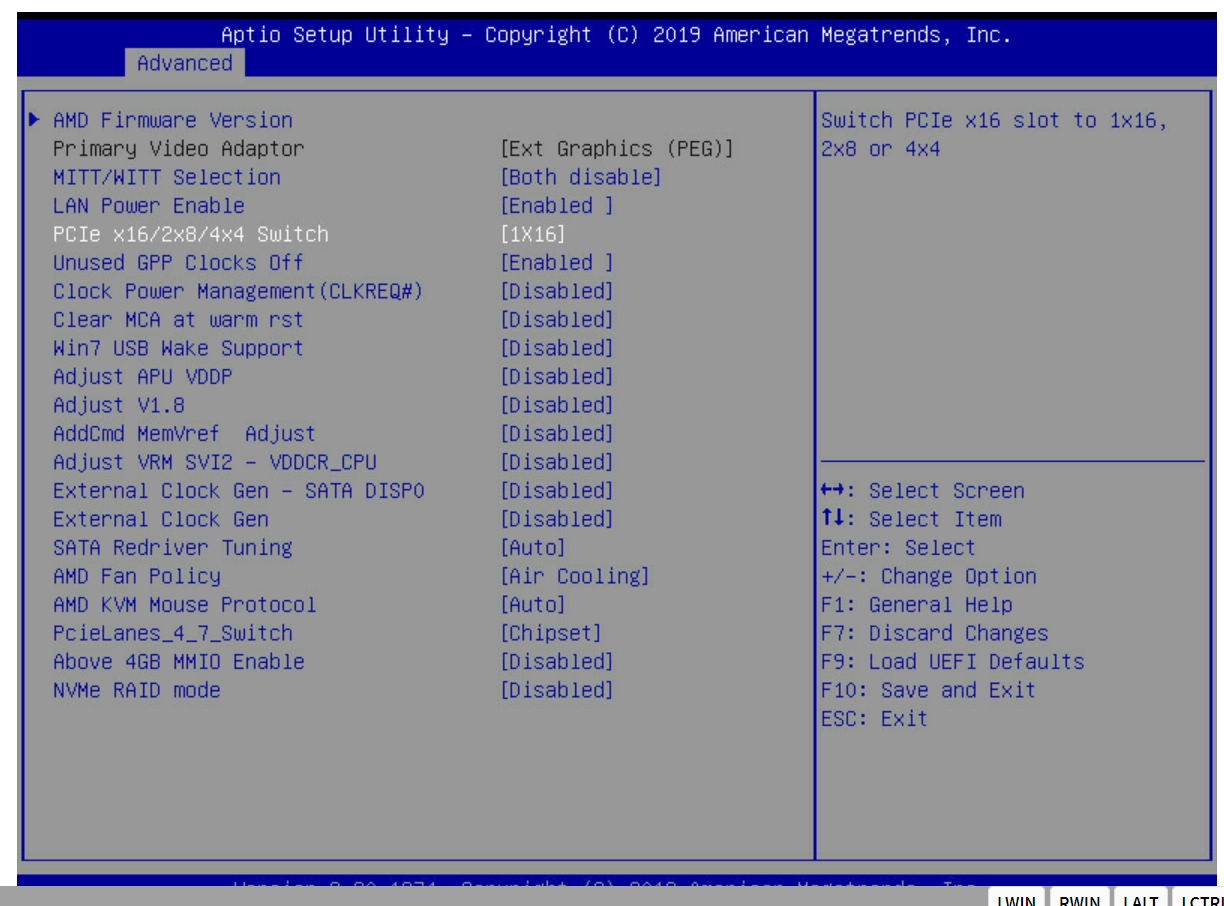 [root@localhost ~]# lspci -vv | grep -E 'PCI bridge|LnkCap'
00:01.1 PCI bridge: Advanced Micro Devices, Inc. [AMD] Starship/Matisse GPP Bridge (prog-if 00 [Normal decode])
LnkCap: Port #1, Speed 8GT/s, Width x4, ASPM L1, Exit Latency L0s <512ns, L1 <64us
00:01.3 PCI bridge: Advanced Micro Devices, Inc. [AMD] Starship/Matisse GPP Bridge (prog-if 00 [Normal decode])
LnkCap: Port #0, Speed 8GT/s, Width x8, ASPM L1, Exit Latency L0s <512ns, L1 <64us
00:07.1 PCI bridge: Advanced Micro Devices, Inc. [AMD] Starship/Matisse Internal PCIe GPP Bridge 0 to bus[E:B] (prog-if 00 [Normal decode])
LnkCap: Port #0, Speed 16GT/s, Width x16, ASPM L0s L1, Exit Latency L0s <64ns, L1 <1us
00:08.1 PCI bridge: Advanced Micro Devices, Inc. [AMD] Starship/Matisse Internal PCIe GPP Bridge 0 to bus[E:B] (prog-if 00 [Normal decode])
LnkCap: Port #0, Speed 16GT/s, Width x16, ASPM L0s L1, Exit Latency L0s <64ns, L1 <1us
LnkCap: Port #0, Speed 8GT/s, Width x4, ASPM L1, Exit Latency L0s <1us, L1 <8us
LnkCap: Port #0, Speed 8GT/s, Width x4, ASPM L0s L1, Exit Latency L0s <2us, L1 <32us
LnkCap: Port #0, Speed 8GT/s, Width x4, ASPM L0s L1, Exit Latency L0s <2us, L1 <32us
03:00.2 PCI bridge: Advanced Micro Devices, Inc. [AMD] 400 Series Chipset PCIe Bridge (rev 01) (prog-if 00 [Normal decode])
LnkCap: Port #0, Speed 8GT/s, Width x4, ASPM L0s L1, Exit Latency L0s <2us, L1 <32us
20:00.0 PCI bridge: Advanced Micro Devices, Inc. [AMD] 400 Series Chipset PCIe Port (rev 01) (prog-if 00 [Normal decode])
LnkCap: Port #0, Speed 5GT/s, Width x1, ASPM L0s L1, Exit Latency L0s unlimited, L1 <64us
20:01.0 PCI bridge: Advanced Micro Devices, Inc. [AMD] 400 Series Chipset PCIe Port (rev 01) (prog-if 00 [Normal decode])
LnkCap: Port #1, Speed 5GT/s, Width x1, ASPM L0s L1, Exit Latency L0s unlimited, L1 <64us
20:02.0 PCI bridge: Advanced Micro Devices, Inc. [AMD] 400 Series Chipset PCIe Port (rev 01) (prog-if 00 [Normal decode])
LnkCap: Port #2, Speed 5GT/s, Width x1, ASPM L0s L1, Exit Latency L0s unlimited, L1 <64us
20:03.0 PCI bridge: Advanced Micro Devices, Inc. [AMD] 400 Series Chipset PCIe Port (rev 01) (prog-if 00 [Normal decode])
LnkCap: Port #3, Speed 5GT/s, Width x1, ASPM L0s L1, Exit Latency L0s unlimited, L1 <64us
20:04.0 PCI bridge: Advanced Micro Devices, Inc. [AMD] 400 Series Chipset PCIe Port (rev 01) (prog-if 00 [Normal decode])
LnkCap: Port #4, Speed 5GT/s, Width x4, ASPM L0s L1, Exit Latency L0s unlimited, L1 <64us
20:08.0 PCI bridge: Advanced Micro Devices, Inc. [AMD] 400 Series Chipset PCIe Port (rev 01) (prog-if 00 [Normal decode])
LnkCap: Port #8, Speed 8GT/s, Width x2, ASPM L1, Exit Latency L0s unlimited, L1 <64us
21:00.0 PCI bridge: ASPEED Technology, Inc. AST1150 PCI-to-PCI Bridge (rev 04) (prog-if 00 [Normal decode])
LnkCap: Port #0, Speed 5GT/s, Width x1, ASPM L0s L1, Exit Latency L0s <2us, L1 <2us
LnkCap: Port #1, Speed 2.5GT/s, Width x1, ASPM L0s L1, Exit Latency L0s <2us, L1 <16us
LnkCap: Port #2, Speed 2.5GT/s, Width x1, ASPM L0s L1, Exit Latency L0s <2us, L1 <16us
LnkCap: Port #1, Speed 5GT/s, Width x1, ASPM L0s, Exit Latency L0s unlimited, L1 <2us
LnkCap: Port #0, Speed 16GT/s, Width x16, ASPM L0s L1, Exit Latency L0s <64ns, L1 <1us
LnkCap: Port #0, Speed 16GT/s, Width x16, ASPM L0s L1, Exit Latency L0s <64ns, L1 <1us
LnkCap: Port #0, Speed 16GT/s, Width x16, ASPM L0s L1, Exit Latency L0s <64ns, L1 <1us
LnkCap: Port #0, Speed 16GT/s, Width x16, ASPM L0s L1, Exit Latency L0s <64ns, L1 <1us
LnkCap: Port #0, Speed 16GT/s, Width x16, ASPM L0s L1, Exit Latency L0s <64ns, L1 <1us