I have Asus P8Z68-V PRO GEN3 paired with i5-3570K. The PC became unstable with many BSODs even under medium load. I looked into BIOS and found some wrong values on AiTweaker page. Resetting to defaults fixed wrong values, but when I changed the date I got exactly the same wrong values again in AiTweaker. I also tried clearing cmos (battery+jumper). The very first restart was ok, but changing anything unrelated to AiTweaker brings corrupted AiTweaker settings back. This happens all the time and wrong values are always the same. I thought it was the faulty bios chip and replaced it with a brand new chip flashed with the latest version of bios. But the problem is still there, so it's not the chip's fault.
Here is AiTweaker page after resetting to default setting: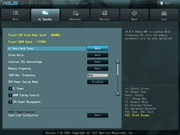 This is what happens when I change anything (even just the date) and restart: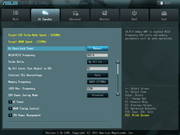 As you can see the target turbo boost and dram values are wrong, tuner is set to Manual, and pretty much all other settings are messed up (like "42" for "By All Cores" options).
Is this the hardware or software issue?