Hello,
This issue occurs when I use multiple Displays - set on Extend or Second Screen Only - and after I restart/wakes from sleep:
I have 2 displays - both 1080p:
One is a LG IPS237 LED 23" PC monitor, connected to my graphic card using an HDMI to DVI cable (this monitor only has HDMI exit so I connect it with hdmi to dvi cable - into the dvi slot of my Nvidia GPU).
The 2nd is a Samsung UA55D6400 55" LED TV - that is connected to the HDMI slot of my GPU - and to a Pioneer VSX-823K AV-Receiver on the other end. The HDMI cables is 10meters long running from one room to the next.
Now the issue starts when I am using Extend or Second Screen only - and restart, reboots or puts my pc to sleep
:
I have my Samsung TV set as the "main display". When I put on Extend or Second Screen only - everything looks great. The resolution is indeed 1080p (1920x1080) @60Mhz.
I can play games, browse the web, everything is good.
However -
when the pc gets back up from restarts, awakes from sleep, returns from sign outs - the resolution on the main display as well as the desktop icons get messed up:
Desktop icons become gigantic and scattered in disarray. They take up about 33% of the TV screen. The Taskbar also becomes massive and wide.
Texts and letters however become small and very blurry.
The issue persists and appears also on the PC monitor (when I use it in Extend or when I set the project settings to PC Monitor Only): Huge desktop icons, massive taskbar and especially blurry and smudged text.
The only way for me to fix this - is restarting the pc - WHEN ITS ON PC MONITOR ONLY. IF I would restart it when its on "Second Screen Only" or on "Extend" it will still have the enlarged icons and bad display.
Note: the Resolution remains 1920x1080 while this bug occurs - and this bug occurs 100% after restarts and sleeps.
I have the latest GPU drivers and windows updates. I cannot find a solution for this - and this is extremelty uncomfortable and troublesome - since I like occasionally put my pc to sleep or restart it - when working/gaming in front of my TV in the living room.
My GPU is: Asus 670GTX DC2T.
Here are some screenshots - taken on my PC monitor on "PC Monitor Only" after restarting my system at Extend (TV as "main monitor"):
Before - Looks ok: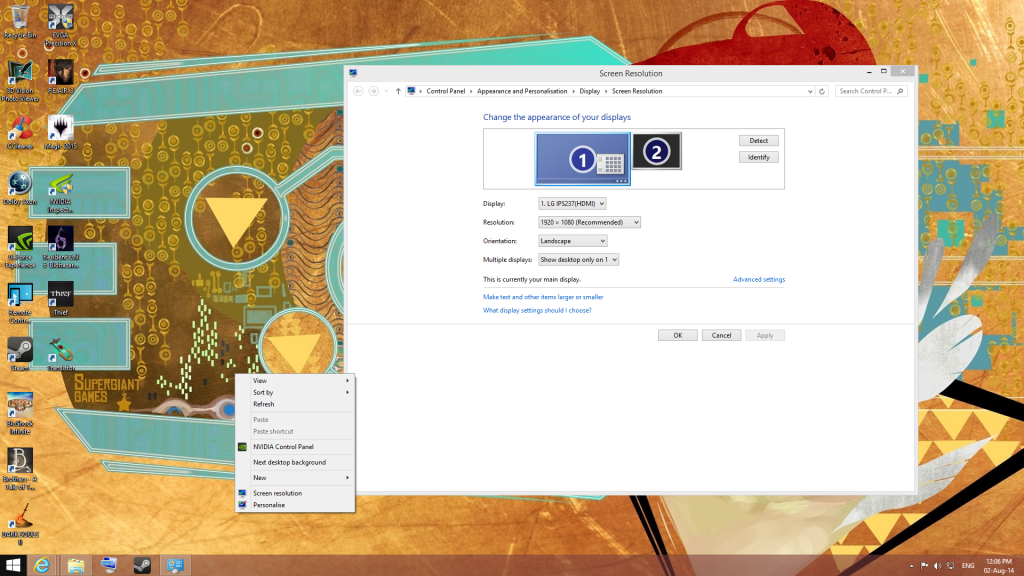 AFTER RESTART/SLEEP - smudged stretched resolution look, massive icons, blurry tiny text: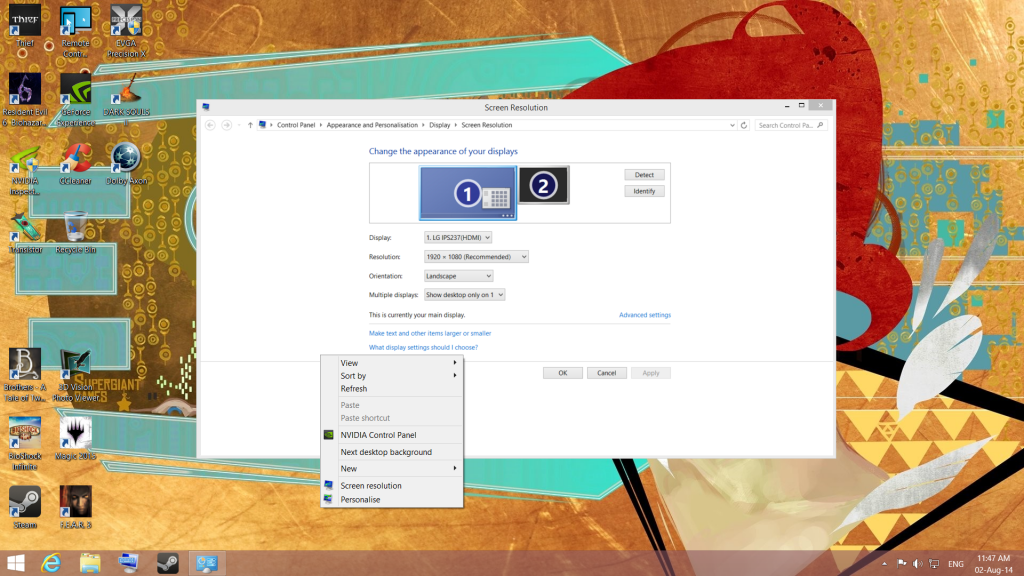 PLEASE HELP!