Item:
i7 4790K
Condition: BNIB
Price: 320 (USPS 2-day with sign)
For those who need the batch #L421B942
Pics: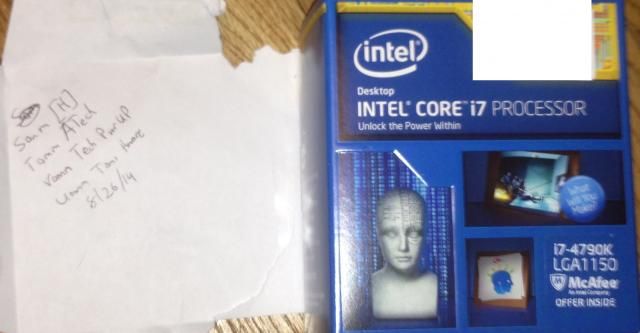 T&C to make life easy for everyone
Heatware:samm
Transaction Details Not confirmed until:
I send you pictures, and all pertinent information to you
Payment is not required until
a) I can ship the item within 24 hours
AND
B) I send the invoice with terms of sale
Shipping cost included
Shipping method USPS 1-3 day Priority w/ sign
Payment Method:
1) USPS MO
-For alot people MO is a huge turn off, and I get that
-Due note its good method of payment as both seller and buyer have equal monetary rights (federally protected, anything goes wrong your covered)
-I can submit heatware references if needed
2) PayPal
-Accepted, NO GIFT PAYMENTS
-CONFIRMED ADDRESSES ONLY
-SHIPPING ADDRESS IS THE PAYPAL VERIFIED ADDRESS
-Invoice will be emailed to the verified paypal email.
Note No International shipping
Return: all sales final. Items are new
User accounts that do not follow fs/ft rules will be no answered to.
Buyer must have
A) heat ware (preferred)
Or
B) feedback from eBay. if you have a eBay account, you must send me a message from that account.
All Comments, Concerns, Questions, Offers please PM ME. No need to unnecessarily bump this thread and break FS/FT rules.
-END