I recently built an older computer and have been trying to get Windows booting for a couple of days now. First of all, I ran into the problem that I couldn't install Windows onto the disk because "This computer's hardware may not support booting to this disk."
I tried creating a thread for that error as well, which you can look at
here
if that interests you, though, I never came to any conclusion. I decided to simply install Windows on another computer, which worked flawlessly on the same disk. When putting it back into the newly built one, however, it doesn't get past "Loading Operating System . . ."
As for what I have tried so far:
Changed SATA ports.
Changed HDD three times and tried installing Windows 10 on them, same error (Windows cannot be installed to this disk. This computer's hardware may not support booting to this disk.)
Tried booting off a SATA SSD with Windows 10 installed on it (Stuck on Loading Operating System . . .)
Reset BIOS settings to both "Optimized Defaults" and "Fail-Safe Defaults" (Still no luck.)
Flashed to the latest BIOS version. (Nothing changed.)
Tried heading into "Advanced BIOS Features" and disabled all other boot devices besides "HDD". (Used to be HDD -> CDROM -> Legacy LAN)
Tried enabling eXtreme Hard Drive (XHD) (Disabled it again after not getting any result.)
Tried changing "PCH SATA Control Mode" to AHCI and RAID(XHD) from IDE.
Tried changing "eSATA Ctrl Mode" from IDE to AHCI, though doubt eSATA is what's causing the issue.
Tried changing "0_1/IDE Ctrl Mode" to AHCI and Raid(XHD) from IDE. (Doesn't change anything.)
The only thing changing when enabling AHCI rather than IDE is that a few more drive detection screens come up before booting and such. A GIF of booting up is provided below.
I believe the issue to be related to AHCI, though with no prior experience with motherboards from this time, this sort of BIOS or error, I'm kind of lost for ideas and really need help.
Here is a link to a video of the exact BIOS with the same settings I have. It shows all settings and different screens, figured that'd be easier than taking a ton of pictures.
View: https://www.youtube.com/watch?v=CCA-0fVOMQY
Here is a GIF of everything during booting if that could be of any help.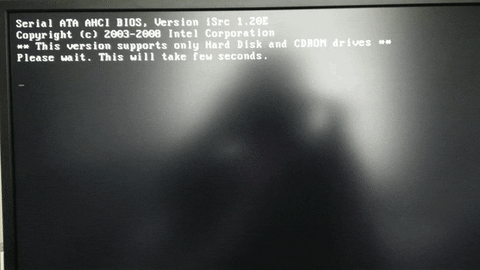 If any more information is needed, just ask and I can provide.
Thanks in advance.
Last edited: