So I came down from my college to chill at my parents house for a week this summer, and I had my computer out on the floor, w/ Overlord minimized, and while I was gone, my stupid-a** stepmom had unhooked everything, and rolled the computer under my bed. For some stupid reason, they like the house warm, and being under the bed had only made things hotter for the computer. Needless to say, I was enraged when I get home to see the computer there.
I went ahead and plugged a monitor up to it, and ya.. hell had kicked my computer's ***. I've had a slight problem with multi-colored static and other issues before, but this had only made things MUCH worse! Let me get to details first though:
Before this mess, I've had a few problems with, I'm not quite sure.. w/ my computer. I've always had grainy, multi-colored static pixels that would sporadically flare, mainly over black areas. The colors are typically lime green, pink, yellow.. just very vibrant, bright colors. They'd happen in-game, while booting up my BIOS, on my wallpaper.. everywhere. Not to mention, when my computer runs BIOS, it frequently has random letters replaced with odd characters.. anything from a "-" turning into a "§" or a solid block of gray, and often my normal black-gray screens would end up gleaming w/ the color-spectrum.
In any case, it ran games smoothly as far as frame-rate is concerned, and the only irritation was those pixels, as well as a few minor hieroglyphs and stretched particles in games when I turn the quality up high.
AFTER this whole under the bed thing, all of those problems have multiplied... tenfold. The neon static problem is MUCH worse than it has ever been. When I try playing a game like Overlord, I can play alright for the first 5 minutes or so, in which I see frequent glyphs appear, but then the game would randomally stop, as if it was being thermal-throttled. Then would start again a bit later, then stop quickly after. Then it'd get to the point that the whole thing would just freeze for good.
I tried to run Benchmark, which would do fine at first, but as it went further through the first test "proxycon.. w/e", it would get worse and worse, then freeze at the end. Not to mention, WEIRD things happen in games as far a sthe visuals of a game go, like the whole screen would jump into a "negative" perspective, or just go gray.
Lastly, even a lot of glyphs and pixels appear on my wallpaper, and they flash on/off, and get worse occasionally, and sometimes go/come back if I interact w/ them such as scroll over them w/ the window, and sometimes they appear over the window. I'll show a pic below: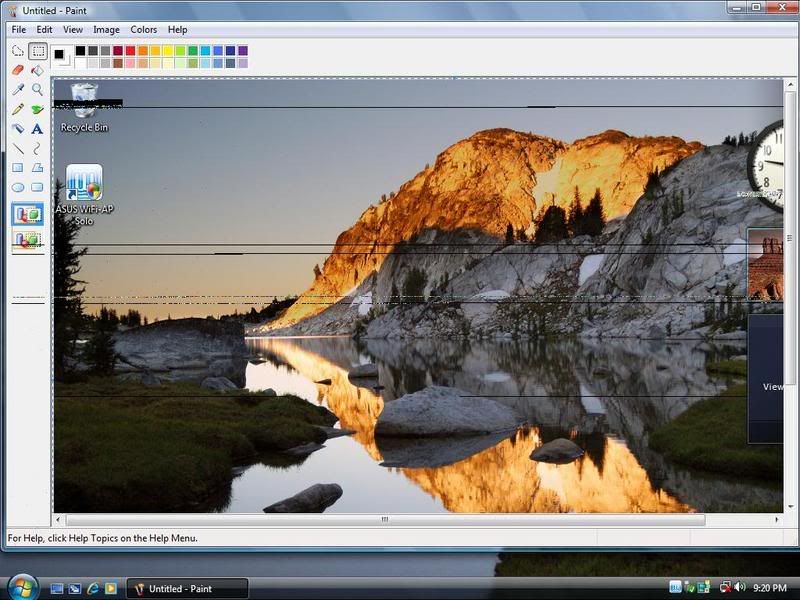 Those black lines are what I mean by glyphs, and ya, like I said, they tend to dance around a lot.
Also, randomally the video output would turn off, and turn back on and it says that an error has occured w/ my graphics driver. I know it's not the driver, and I know it's not the OS. I've used both Vista x32 and XP Home. Same story both ways. Anyone have any advice? Thanks
My Computer:
7900GT BFG OC edition
(I never bothered OCing, h/w it seems like I'm not getting enough voltage through, and that's what's leading to these bad glyphs, and sometimes snow.)
e6600 2.4Ghz
(stock, I OCed it in the past, but nothing too noticable and never with temperatures higher than 45*. When thrown under my bed, it was stock though.)
Corsair DOMINATOR 2GB
(1x2GB)
ASUS P5K Deluxe
SilverStone 650w
(brand new).