Hello Tom's Hardware,
I have this issue that has been going on for a while now.
I bought a what i believe to be a
NVIDIA GeForce GTX 750 Ti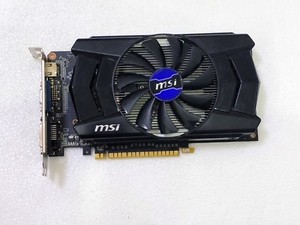 ever since i brought it i have had this issue.
My monitor is also a
Samsung 27" Curved 1920x1080 VGA HDMI 60hz
the monitor has both the VGA and HDMI plugged, but as i found out the HDMI port that's connected to my GPU is not working and when i plug the VGA to the GPU slot it does not seem to work
It also does not show up in device manager, and when i unplug my VGA cable it has no signal even if i have the HDMI plugged in.
I went to BIOS to see the problem, nothing.
I'm unsure why it can boot to the new bios sinse my PC does not seem to read it in the first place,
I have tried the following
looking through the desktops bios to find nothing

unplugging the VGA and leaving hdmi and vice versa

looking through my monitors settings and resetting it

taking it out and putting it back in

Installing the drivers (was not recognized)

uninstalling the old drivers that display on device manager to it just reinstalling again
i'm unsure what to do, maybe i'm just being dumb but i can't find a fix online, but i have been trying to fix this all day and am just tired of it.
I don't know a fix for this.
(sorry for any grammatical errors)
this is also not a new issue this has been a problem ever since i had it

i will get back to the comments saturday.
Last edited: