In June of last year, after 7 years of great service, I sold my R9 290 and acquired a used GTX 1060. Since then, the system has been experiencing issues.
In all applications and games, as well as File Explorer, the following symptoms occur:
​
• Monitor temporarily goes black for up to 5 seconds. When the black screen exceeds 5 seconds, it's usually followed by an automatic reboot, or an automatic reboot plus BSoD.​
• Games crash at seemingly arbitrary moments, and in some cases it's followed by a message which states: "The video card has been physically removed from the system".​
• Black rectangular-shaped boxes of varying sizes appear in all applications, including File Explorer after performing the following actions:​
clicking; typing; switching tabs; switching, minimising and maximising windows​
​
The size of these black boxes vary from being tiny to taking up an entire window. (Resizing the window fixes the issue for a few minutes.) Oddly enough, the FPS-performance is stable and the GPU's temperatures seem fine. (≈36 °C or ≈97 °F idle, ≈65 °C or ≈149 °F under load.)
What I've tried:
- Different HDMI and DisplayPort cables and ports.​
- Different driver versions. (Clean installation on each occasion.)​
- DDU.​
- Different Nvidia Control Panel settings.​
- Various refresh rates 60Hz, 75Hz, 144Hz.​
- Clear the CMOS .​
- Reseat the GPU in each slot. (With screws, without screws, with screws loose, tight, somewhere in between, etc...)​
- Remove dust and apply new thermal paste (Even though temperatures seemed fine.)​
- Malware/Virus scan.​
- Browse the internet, looking for a solution...​
Whereas the DP cable seems to fit just fine into the monitor's port, from the get-go there has been an unsatisfactory degree of ''sagging'' on the GPU's end. The cable doesn't seem to latch on properly—even with the graphics card removed from the system.
Using an HDMI cable instead, combined with specific Nvidia Control Panel settings, seemed to resolve the issue for a few months, but recently all the above-mentioned symptoms returned at a greater frequency, regardless of the type of connector that is used.
The main reason as to why I don't think the PSU is the culprit is that the symptoms started to occur immediately after the addition of the GTX 1060.
So, based on my limited knowledge, everything seems to point at the GPU. (Or could it still be something else?)
Any ideas on the cause and/or tips on how to diagnose, fix, or bypass this issue would be greatly appreciated.
Hardware specifications:
ASUS ROG Maximus VII Hero Z97
Intel Core i5 4690K (3.5 GHz)
Cooler Master Hyper 412S
GeForce GTX 1060 GAMING X 6G
Kingston HyperX Savage 4GB x4 DDR3-1600 CL9 kit (16GB)
Seasonic M12II Evo Bronze 620W
Crucial MX100 256GB
Western Digital Blue 1TB x2 (64MB) (2TB)
Cooler Master Storm Scout II Advanced Black
OS: Windows 10 PRO 64-bit (Version
21H1
, Build
19043.1526
)
GPU-z screenshot:
Unigine Heaven Benchmark screenshot: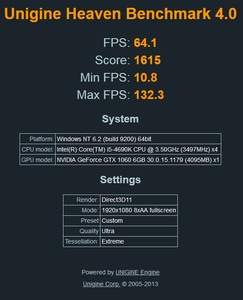 Last edited: