Hi all.
For those of you that might be familiar, I have a TV tuner card from the Hauppauge company called the Colossus. It's an internal PCI slot card. I used to connect the cables from my satellite receiver box to it and then was able to watch (and record to my hard drive) TV on my computer's monitor.
I can't recall exactly, but I think I've had this Colossus card for close to ten years.
Anyway, I've moved away (cut the cord) from satellite TV and am using an over-the-air antenna, and I now have a product for our main television called Tablo. Table is a receiver and a DVR, and it can work in conjunction with a Roku device. And, it has an app you can use on your computer, so, I can watch TV on my PC's monitor without having to have the antenna connected to it.
So, I have no use now for the Colossus tuner card.
Before attempting to remove & uninstall the Colossus card and its related software (WinTV), I contacted Hauppauge Tech Support and asked them if the following was the proper procedure for removing their hardware & software, the best, proper, and "cleanest" way possible:
In Device Manager under Sound, Video, and Game Controllers, expand it and right-click on Colossus Capture Device; from the pop-up Menu, choose/ click on Uninstall Device.
Then follow the same procedure in Device Manager to Uninstall Colossus Encoder Device
Then, in Control Panel/ Programs and Features, Uninstall the program of Hauppauge WinTV 8
Then shut down my computer system/ power off, open computer tower unit, and physically remove the Colossus card from its PCI slot.
The Hauppauge company is not always swift in their responses, but when they finally got back to me, they said Yes, that was the proper procedure.
After the final step of physically removing the card from my system, I noticed that in the Task Manager on the Startup tab, there was still a listing for it: "WinTVTray".
And also, if I navigated to C:\Program Files (x86)\WinTV, there was still plenty of files left inside this folder, totaling 177MB in size on my hard drive.
I've been writing back & forth with Tech Support (and like I mentioned, they are not exactly swift in their responses; my initial contact with them was on 10/31/19, and tomorrow is 11/18/19....getting close to 3 weeks).
In one of their replies, they said it sounds like it wasn't uninstalled properly, and could I check to see if it was still listed in Control Panel/ Programs & Features. Well,
THAT'S
where I uninstalled the program
from
, and when I did so, the listing for it was removed from the list in Programs & Features.
In the meantime while still waiting on their next reply, I looked something up: On their site is a software program download called "hcwclear"; running this program will supposedly remove All WinTV Drivers and Applications (Total Removal). After running it, a System Reboot is required to complete the procedure.
After the reboot, I got a surprise....but not a good one: an error message of sorts pops up on my desktop every time I either do a cold start, or, reboot my computer; here it is: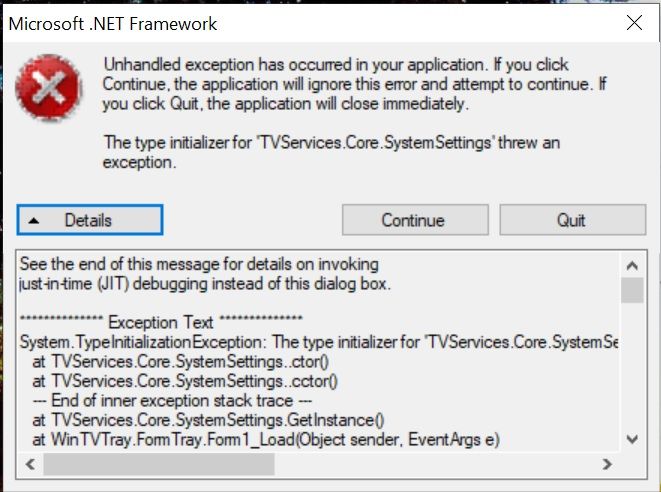 Even though it says Microsoft .NET Framework at the top, you'll notice inside in the Details the mentioning of "TVServices" and "WinTVTray"; these are related to the Hauppauge software program.
I've tried clicking on both the "Continue" and "Quit" buttons that you see above. Yes, clicking on either one of these buttons has the error box/ template go away, but, whenever I next boot or reboot my computer, that message always comes back. My Windows 10 OS works just fine after this, it's just that it's annoying seeing this error after every system boot.
In case you were going to ask, here's what I tried next while still waiting on Hauppauge Tech Support's next reply: I went into Control Panel/ Programs & Features, Turn Windows Features On or Off, and in here made sure
.NET Framework 3.5
and
4.8
were selected and ALL features enabled. But still, on boots & reboots, I still get that pop-up error box/ template.
Plus, as I mentioned above, I'm also still getting that listing for "WinTVTray" on the Startup tab in Task Manager.
Sometimes, replies from some company's tech support staff can be a bit underwhelming; who knows, perhaps at first you're dealing with someone who is assigned the equivalent of "Level 1" tech support. Maybe I'll get bumped to Level 2.
In the meantime, I thought I'd try here. Many times in the past I receive better tech tips & suggestions from these message forums
So, if any of you think you might know what's going on or what I can do to get rid of the listing in Task Manager/ Startup tab, AND, this pop-up error message on system boots.....I'd be grateful.
Thanks,
Pez