hi
when i test vga with furumark temp go to more than 90 degrees !
my system spec :
amd phenom ii x4 b65 3.4ghz
msi 970a-g45
2x4gb ddr3 1600mhz cl9
memonex 600w gaming
my case have 1 fan 120mm on back and 2 fan 120mm on CPu ( thermalright ultra 120 extreme)
when i open case door not a different !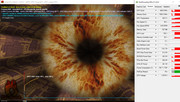 and i have a new problem !
my old mainboard was asrock 870 extreme3 r2.0
in old mainboard my vga go to boost gpu clock
but in my new mainboard dont run in boost !
i must enable a thing in mainboard bios ?
max reach 74% fan speed !not more !
vga bios :
GPU Device Id: 0x10DE 0x11C2
Version: 80.06.59.00.11
GK106 P2030 SKU 12 VGA BIOS
Copyright (C) 1996-2013 NVIDIA Corp.
GK106 Board - 20300012
Connectors 1x DVI-D 1x DVI-I 1x DisplayPort 1x HDMI
Board power limit Target: 122.0 W Limit: 134.2 W Adj. Range: -53%, +10%
Fan Speed Min: 30% Max: 74%
Memory Support GDDR5, Hynix GDDR5, Samsung GDDR5, Elpida
Performance Level 0 Core Clk: 324.00 MHz Mem Clk: 162.00 MHz
Performance Level 1 Core Clk: 324.00 MHz Mem Clk: 405.00 MHz
Performance Level 2 Core Clk: 549.00 MHz Mem Clk: 1502.00 MHz
Performance Level 3 Core Clk: 549.00 MHz Mem Clk: 1502.00 MHz
Boost Clocks P0 Boost: 1058.50 MHz P0 Base: 993.00 MHz
Last edited: