Hi all
I have had this vm working for a few months ago.
I know get this error from the git go of launching vm('s)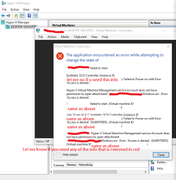 https://i.postimg.cc/w38Yjdhg/New-Bitmap-Image.png
PS: I have and had ran gpu partition script in the past and had to rerun script after grafix update. That was not the case this time.