Hello, I bought used laptop
Acer E5-576G
from repair shop and when I opened it up I found a
red soldered wire
inside on the
motherboard
. It clearly looks, that the repairmen did that. I checked the internet if the original motherboard has this wire or not and I didn't saw any.
Why would they do that?
Also, all games crashing on this laptop
when playing them with NVIDIA GPU (MX150)
. Maybe that hand-soldered wire
shortens out something
?
Or GPU is dying
?
Strange, but it's not even looks that it has any problems at NVIDIA control panel live view, no artifacts or glitches.
I saw some artifacts on Far Cry New Dawn menu
and I managed to get it working for
about 10 seconds without crashing
, gameplay was very smooth, no graphical glitches. Where could be the problem?
I made a reference picture for how it looks: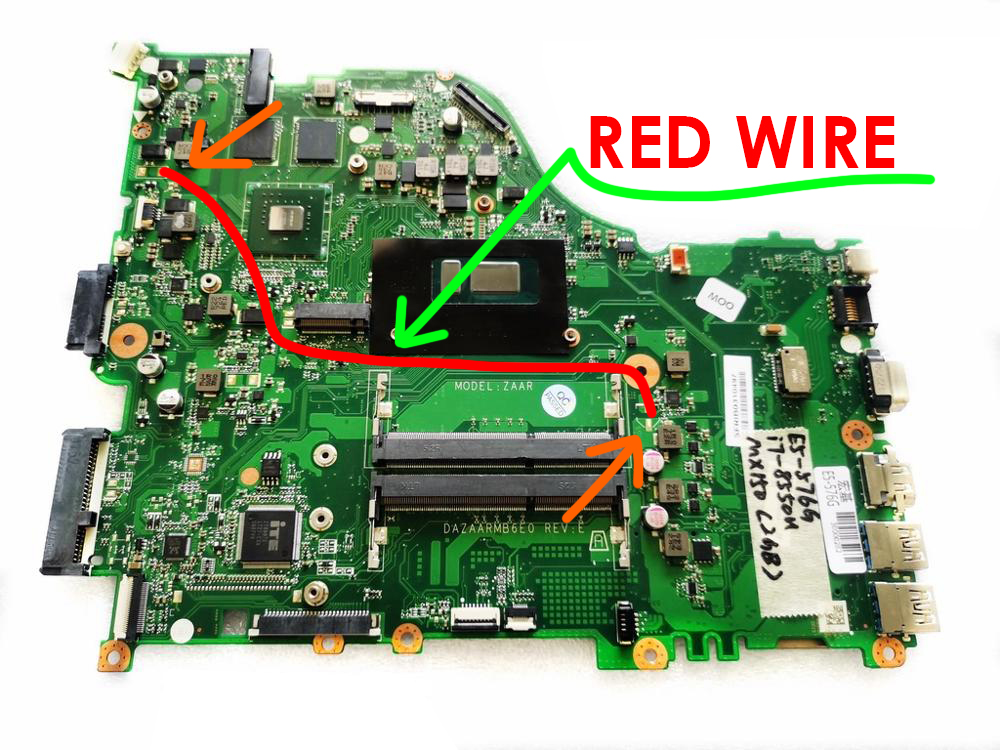 What I did:
Updated windows to the latest
Updated NVIDIA drivers to the latest
Reinstalled Windows
Changed thermal paste on CPU and GPU ( Before changing I saw that repairmen applied too much of it and it looked like a silicone paste) (Maybe that was one of the problems too?)
Checked if it's not dusty inside the laptop, but it was very clean
Nothing worked...