Alright so hopefully I can explain this properly, and right off the bat I want to say that I have not OC'd at all.
So I just recently got new parts for my build, and this time around I decided to go with an AIO instead of air cooling like before. With this new i7-9700k and H100i Pro, I'm getting seemingly higher than normal temps and they tend to fluctuate wildly. When I boot up the computer into Windows and immediately check HWMonitor, my max temp could be upwards of 60c, although it drops back down to around 30c for idle.
This would seem normal, but for some reason the temperatures don't want to stay stable. If the temperature reads 32c and I open YouTube in Chrome it will instantly shoot up to 45c then slowly stable back to normal. It seems to spike randomly at almost anything I do. Even whenever I'm sitting at the desktop doing nothing but staring at the temperature, it can bounce around from anywhere between 28-35c constantly.
Here is a screen shot I just took that shows it's current idle temperatures along with the maximum of 56c from booting into Windows.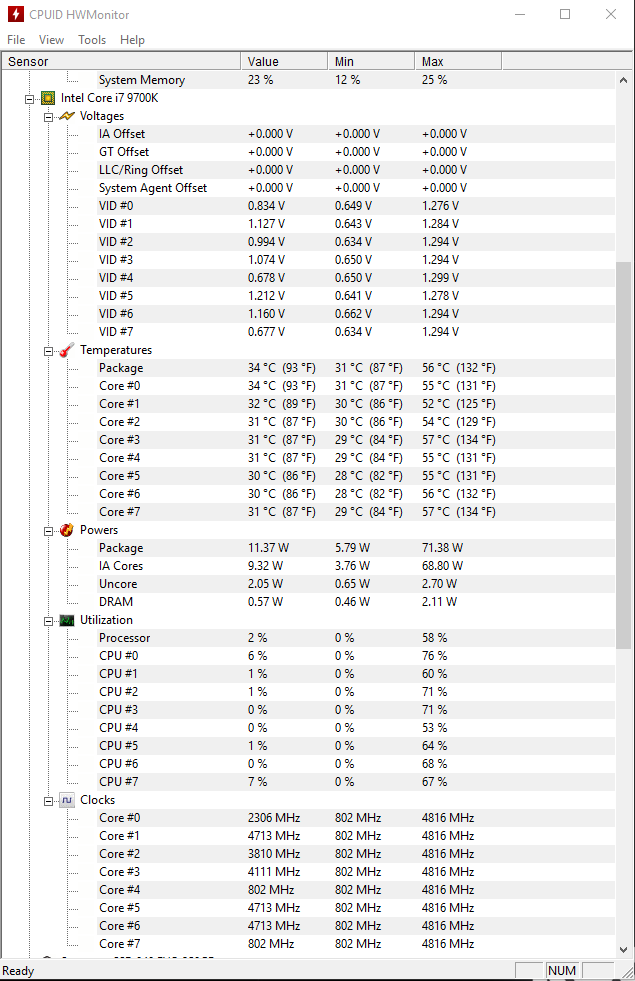 Also, here is a gif showing what happens when I do nothing but open another tab in Chrome.
https://i.gyazo.com/7996701379876f93acbf6a101c083656.mp4
I'd like to mention that when I'm playing games, in this case Rocket League, I noticed that my temperatures would be around 40-45c most of the time. But whenever it was loading a new map, it would spike all the way up to 68c before going back down. This is also concerning me quite a bit.
I also would like to mention that I used the pre-applied pad of thermal paste that was on the H100i Pro instead of my own, but it was applied to a brand new 9700k with no prior paste applied to it. Not sure if maybe there's a problem with their pre-applied paste, but it's worth mentioning I suppose.
Is there something about these erratic and fluctuating temps I need to be worried about? Could it be something to do with the new processors or perhaps bios settings? Possibly bad mounting of the AIO or air bubbles?
Any advice I can get about this would be wonderful.
-PC Specs-
CPU - Intel i7-9700k cooled by Corsair H100i Pro AIO
MOBO - Asus RoG Strix Z390-E
RAM - Corsair Vengeance LPX 16gb 3200mhz
PSU - EVGA Supernova 1000 G+ 80 plus gold
GPU - EVGA GTX 1080 SC
SSD - 250gb Samsung 850 Evo
HDD - WD Black 2TB