MB: Asus Maximus XI Hero
Pcsr: I9-9900k
Ram: Corsair 128GB, 3600mhz
GPU: Quadro M6000 24Gb
PS: AX1600i
CPU Cooler: H100i Pro
Drives: 2x M.2 Samsung 970Pro in a stripe
OS: Win10
I found this guy who was OCing my exact setup, he seemed to know what he was doing, so I followed his instructions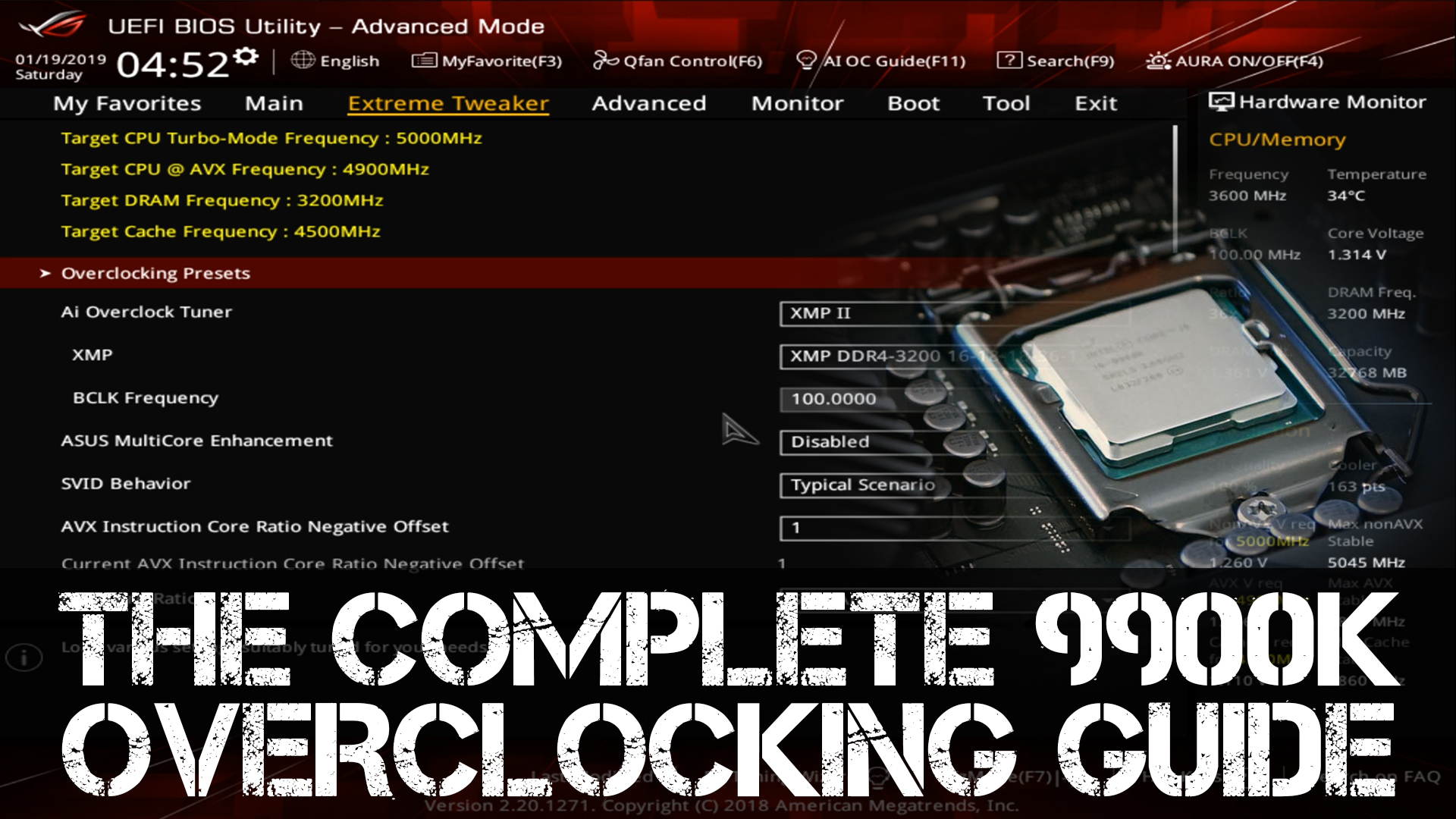 In this video I take you through all the settings to achieve a 5GHz overclock in your 9900K. Cooling dependent of course, these settings should have you well on your way to a stable overclock at 5GHz on all 8 cores. Unlike many other guides, this video will give you a basic understanding of what...

boostedmedia.net
First off, the Corsair RAM will NOT post at advertised speeds. XMP is enabled, but I have to slow the ram down to 3333mhz to post and run. Working with Corsair to resolve this (getting nowhere.)
Secondly for my CPU, I did not need nearly 1.32V to reach 5.0Ghz even with 0AVX on all cores. It ran fine at 1.275V.
The H100i was set to 'extreme' and sure enough the pump and fans were at advertised speeds. So good there.
At 5.0Ghz it had quite a bit of headroom for temperature so I cranked it up to 5.1Ghz w/ 0AVX. It booted fine, but no 5.1Ghz, stuck at 5.0. Back into bios, I tried the Extreme Tweaker setting to enabled and now it booted up at 5.1Ghz. This worked, Ran for a few minutes under Cinebench and crashed. Bumped the voltage a couple times and ended up being able to complete Cinebench at 5.1Ghz, 0AVX, 1.32V, 90°C with a Cinbench score of 12925. (IDK if this is good or not, but remember, the ram is running slow so once I get this resolved it should be even faster).
I tried 5.2Ghz with 1AVX. Booted to windows and ran, but cinebench would not complete.
However, I noticed the first two cores were 10-15°F colder so I cranked them up to 52x. Cinebench completes and AIDA64 reports no throttling. But, subsequent testing in my (often single core CAD program) showed this to be slightly slower than all cores at 5.1. Also, I never saw any reporting that a core was actually up at 5.2. IDK.
It's at 5.1Ghz w/ 0AVX now. stable
In my real world CAD benchmark (a timed script of tasks) it's a little bit faster than where I started today.
Only discrepancy I found with the video is that I still do not have the CPU locked into 5.1Ghz all the time. When unloaded it will drop to 3.6Ghz. Also CPU-Z reports .015V less than I set it to in Bios.
Did I win the Silicone Lottery with this CPU?