Welcome to the Official Intel X299 MegaThread! This thread will be the main location for all X299 discussion and information!

This thread serves as the primary discussion thread for all X299 information and resources. While discussing, please remember to stay within the guidelines set by Tom's Hardware and above all, DO NOT start a flame war.
General Info:
X299 serves as the successor to the X99 chipset for the high end enthusiast platform, this involves a brand new chipset and socket, moving from the last 2011-3 socket to the new 2066 socket. Along with this change comes a host of new CPUs, known as Skylake-X and Kaby Lake-X. For the first time on a HEDT platform, there is now a Core i5 CPU, the i5-7640X, featuring 4 cores and 4 threads. Also new is the Core i9 CPU, effectively replacing Core I7 Extreme Edition processors of previous generations which feature 10 to 18 cores depending on the model number. The Core i5-7640X and Core i7-7740X are Kaby Lake-X, while the rest are Skylake-X. There are major differences between the two lower tier CPUs and the rest of the lineup, which will be discussed in the Architecture section.
Performance:
Starting off with Artificial benchmarks, the Core i9 outshines every current desktop CPU on the market, in both single and multi-threaded applications. Past that, the Core i7's battle head to head with AMD's Ryzen 7 1800X. In single threaded tests, such as Cinebench R15, Ryzen falls behind, but in the multi-threaded variant, beats all but the (lastCore i7-6950X and the Core i9-7900X. Gaming-wise, Ryzen tends to take last place, but only by several frames. (See sources for Benchmark Graphs)
Memory Support:
Here is where things get interesting. Intel has decided that the Core i5-7640X and Core i7-7740X only have support for Dual Channel Memory, instead of the classic quad-channel found on the last HEDT platform. This means that motherboards with 8 RAM slots not be used at full capacity due to this.
Intel has also increased the native memory frequency support for all Kaby Lake-X CPUs and Skylake-X CPUs to DDR4 2666MHz. The only exception being the Core i7-7800X which tops out at DDR4 2400MHz.
Architecture (talk about the i5s and i7s and the issues with memory/PCIe lanes):
For the first time ever, Intel has added their mainstream CPUs to the HEDT platform, in the form of Kaby-Lake X. The Core i5-7640X and the Core i7-7740X are speced identically to their Kaby Lake counterparts, those being the Core i5-7600K and Core i7-7700K, the only exception being high clock speeds and higher TDPs on the Kaby Lake-X variants.
Meanwhile Skylake-X CPUs are where Intel's "true" extreme edition CPUs lie at, with base models featuring 6 cores and the most powerful variants featuring a massive 18 cores and 36 threads.
The Core i7 Skylake-X CPUs have up to 28 PCI-E lanes while the Core i9 CPUs all have the full 44 PCI-E lane configurations. Then the two Kaby Lake-X CPUs have just the 16 PCI-E lane configuration.
Another interesting note is that Intel has decided, for the first time on the HEDT platform, to instead use thermal paste, rather than solder/liquid metal, meaning that some people may want to delid their Kaby Lake-X or Skylake-X CPUs to add liquid metal to lower temperatures. A review by German overclocker, der8auer, talks about VRM heat issues with multiple x299 boards.
Lastly, an RFID chip has been found on the Skylake-X CPUs which is discussed in another of der8auer's video's. This is the first finding on this chip, a PiROM, on a HEDT CPU, as they were normally on higher end Xeons only. One of the use-cases is inventory, showing stuff such as serial numbers, model numbers.
Motherboards:
Motherboards have already been launched from major companies, such as ASUS, MSI, Gigabyte, ASRock, etc. This list has only some of the boards available: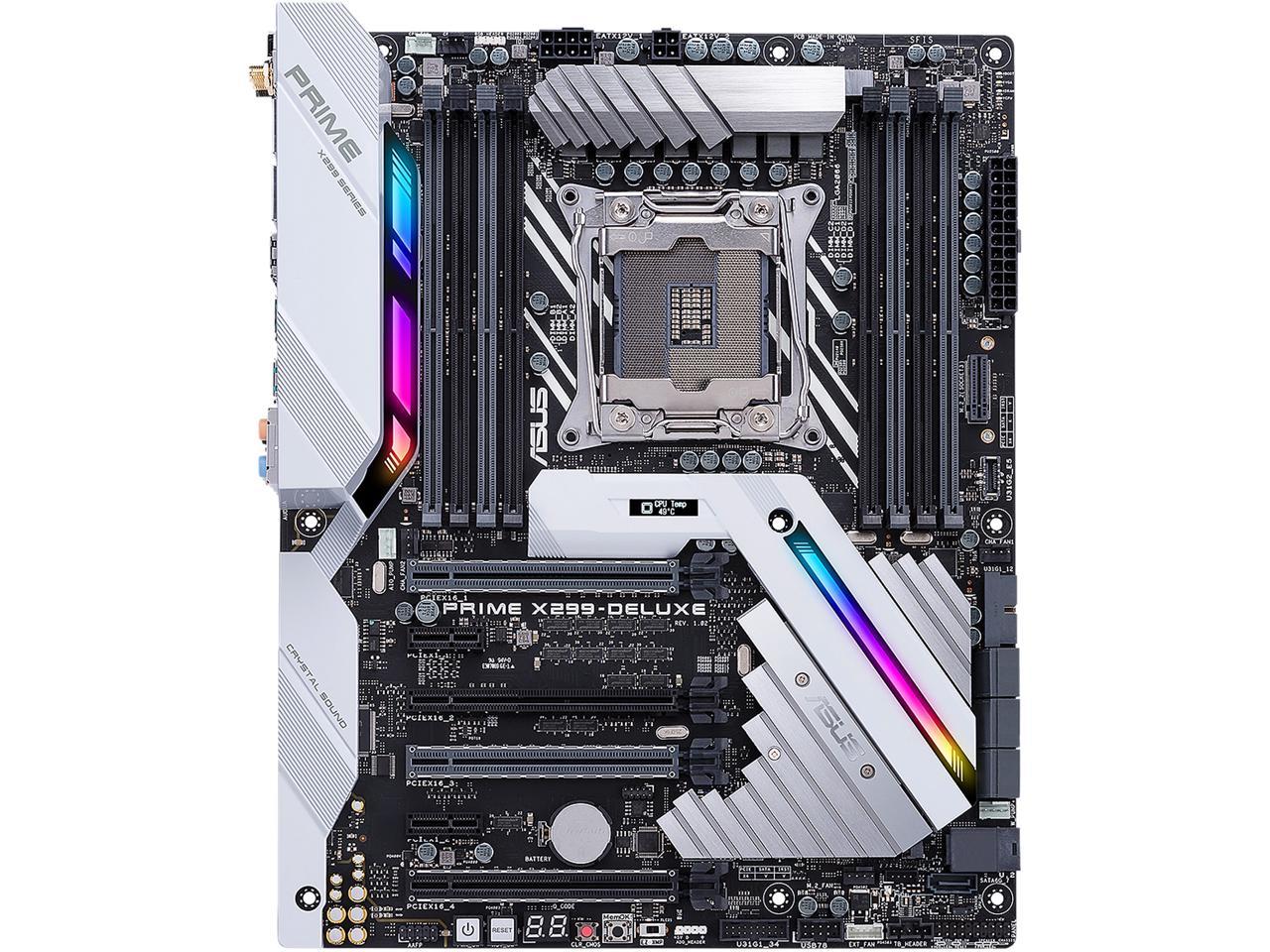 ASUS:
ASUS Prime X299-Deluxe
ASUS TUF X299 MARK I
ASUS TUF X299 MARK 2
ASRock:
ASRock X299 Taichi
ASRock X299 Killer SLI/ac
Gigabyte (AORUS Branding):
GIGABYTE AORUS X299 AORUS Gaming 7
GIGABYTE AORUS X299 AORUS Gaming 3
MSI:
MSI X299 GAMING PRO CARBON AC
MSI X299 GAMING M7 ACK
EVGA:
EVGA X299 Micro 131-SX-E295-KR
Links (Benchmarks & Reviews):
Intel's Core X-series CPUs and X299 platform revealed
The Intel Skylake-X Review: Core i9 7900X, i7 7820X and i7 7800X Tested
Intel 'Core-X Series' Skylake-X CPUs, Kaby Lake-X CPUs and X299 Motherboards Available For Pre-Orders
Intel i9 7900X Skylake-X Review
The X299 VRM Disaster (en) by der8auer
The ongoing testing of Intel's X299 and i9-7900X
The RFID chip on Intels Skylake-X (PIROM) by der8auer
----
First megathread please be nice.