Dear Sirs,
I have the Fujitsu Esprimo P520 system running on 250W Proprietary Power Supply with 2 x 12V Rails 15A only capable to supply continuously 250W (max 17A 280W for 15 SEC) at peak. PSU Model is D12-250P1A (S26113-E5611-V70-1).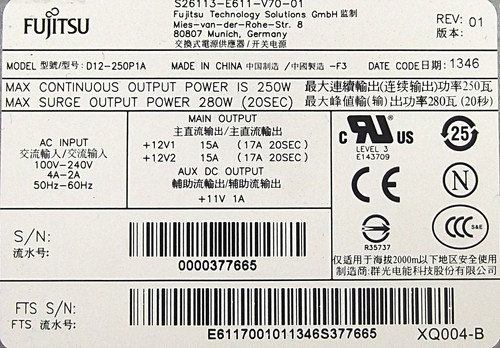 I have currently Intel Core i7-4770, 1 x 8 GB DDR3, DVD-DW, Samsung 500GB SSD and GeForce 1030GT (purchased separately to P520 system). Is it worth to purchase GeForce 1050 TI instead without 6-Pin to run on this power supply? Officially recommended is 300W. I clearly realize that power consumption of the whole system should not exceed 200W, but is it worth to risk with such configuration?
Please advise. Thank you in advance for your opinion and comments.
Last edited: