Ok so I have had a Razer Diamondback for possibly 5+ years . I LOVE this mouse. I can't seem to part with it, but I know I will need to because it will eventually lose support and/or die. Things I love about the mouse: great speed variety, on-the-fly adjustment with on screen display, and most importantly it's LOW PROFILE. I partially palm my mouse, under my pointer/middle finger only, NOT under my ring/pinky at all.
The only thing I dislike about the mouse is the side buttons, which I use for CoD type games. They are too small and sit above where my thumb rests, so it takes extra concentration to reach them without losing accuracy.
Over the last two years I have tried to "upgrade" to a new mouse, most have been optical:
Deathadder - Too fat vertically, lose support of one of the side buttons for on-the-fly adjustments. Sold back on eBay.
MX518 - So close, but no cigar. A bit too big, but a nice mouse. Sold back on eBay.
Lachesis - Borrowed this one. No comment on it's suckness.
Deathadder 3.5 - I was stupid enough to buy this mouse again. I quickly remembered why I hated it. Sold it back on eBay.
Copperhead (laser) - Currently trying out this mouse. A bit fat, but not too bad.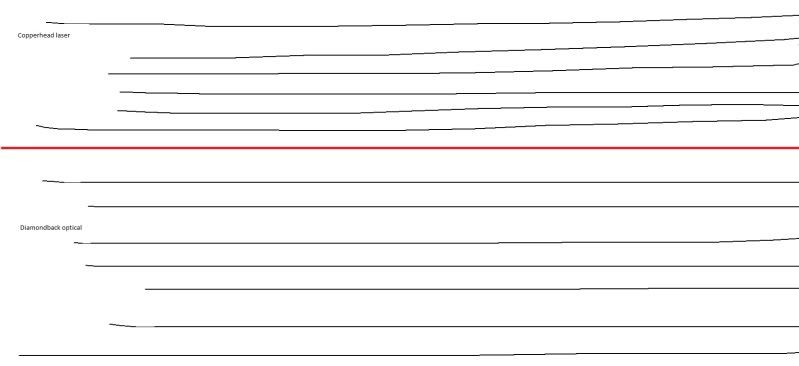 I have read a lot about how laser mice suck for games, and thus have strayed from them. However in my desperation I recently bought a Razer Copperhead. The reason being that it is almost an exact match to my Diamondback, but fixes my primary problem; the side buttons are now where my thumb is. However, I have noticed that the mouse is "jumpy" and tends to move in a wave-like pattern when moving left-to-right. I have included a picture to demonstrate what I mean. You can see the Copperhead laser (on top) does not make a straight line and tends to curve up/down, while the Diamondback optical (bottom) easily comes close.
I have also noticed that while scrolling across text my Copperhead cursor appears to move above and below the text instead of straight across it, while the Diamondback just glides down the center of the text.
I have disabled Win7 mouse acceleration with CPLmousefix. I have updated the latest drivers and firmware for the Copperhead. I want to like this mouse, even though its a bit chubby, but what is the deal with the tracking??? Are all laser mice truly like this?
If there is no fix for this issue and it is inherent in laser mice, can anyone suggest a low profile optical mouse alternative to my Diamondback? I have looked into the SteelSeries Ikari, but the Optical has ridiculous lift-off. There is a laser alternative, but will I have these same issues?