Hey Guys
Ive been in the forums a while now helping people out where i can, and i have noticed that we dont seem to get any (or very little) short reviews from out fellow posters. I would like to see more of this as i feel it would help in the overall selection of a product more than the mass reviews by big sites, also by doing this we can ask questions of the reviewer that maybe specific to our needs. So ive done one here on the Lian Li PC-A70.
Introduction:
I have been looking at upgrading to of my machines lately one being my gaming rig and the other a file server. Both needed to be rather large for what i wanted to do and have great cooling as i was worried about 2 GPU's in my gaming rig and wanted to overclock, and in the fileserver there was to be 10 hard drives which also create alot of heat. This brought me to the Lian Li A70, it covers all the areas i needed on paper and was well built and light weight to boot. I know this case is fairly old now, and is going to be replaced shortly by Lian Li with the A7010 which adds a few modifications. But that also means it could be had for cheap shortly as stores try to off load them for new stock.
Current Rigs:
First a quick spec list of my machines and what i will be adding to each.
Gaming Rig: File Server:
Asus P5B-Deluxe Wifi Asus P5K-e Wifi
Intel e6600 Intel Q6600
2gb Corsair 667 at CAS4 2gb Corsair 667 at CAS4
7900GT 7600GT
Raptor 74Gb 5x500gb WD AAKS on Adaptec 3805 controller
Fatal1ty Edition X-fi with front IO 320Gb Seagate OS driver
UPGRADES: UPGRADES:
PC-A70 Case PC-A70 Case
8800GT with HR-03GT cooler from thermalright 4x500gb HDD to add to RAID5 on Adaptec 3805
Thermalright Ultra 120 eXtreme
Zalman Fan controller
First Glance:
On seeing the box first of all i realised how big this case actually is, i knew it was big but you dont get the full grasp on it till you see the box. The next thing was carrying the things, upon lifting one i noticed how light these are also WOW... i could actually carry one in each hand with no strain at all.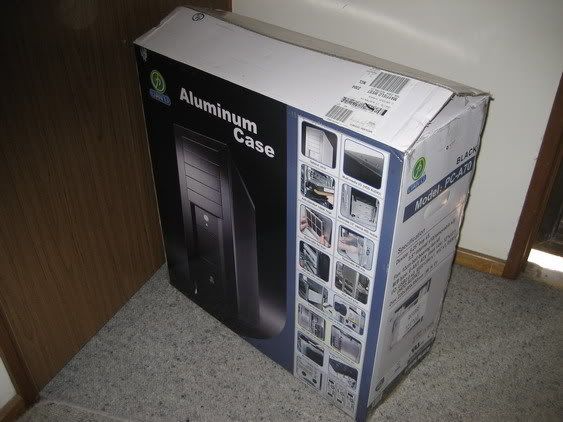 The case itself is packaged really well, the box is solid and as with most cases has a fitted foam packing either end so protect it. Further more it has a thick plastic cover or sleeve encompassing the entire case to protect from any scratching. Both units arrived unharmed and in the best of shape.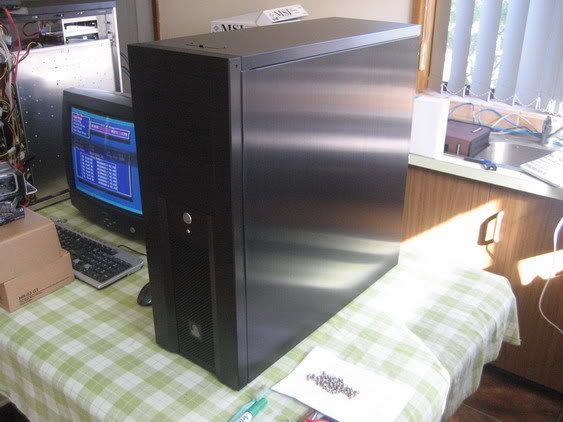 Case Insides & Specification:
I think ill let the pictures do the talking here and ill list a few specs off the Lian Li Site.
Full Tower
220mm x 595mm x 590 mm ( W, H, D)
Full Aluminium
Weight is ~7kg
5x5.25" externals
10x3.5" internal hdd bays
6x120mm fans
supports EATX, ATX, M-ATX
front IO has USB2.0 x 2, iEEE1394 x 1, HD+AC97 audio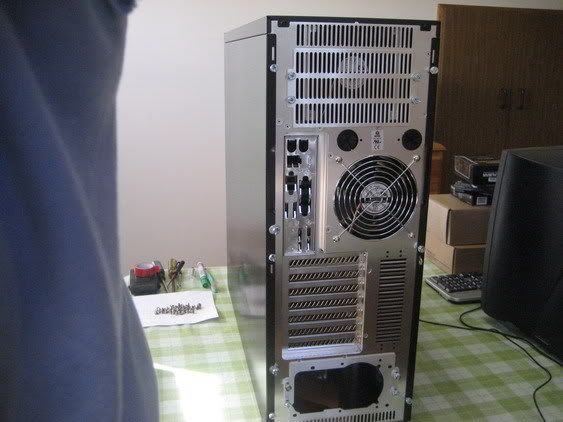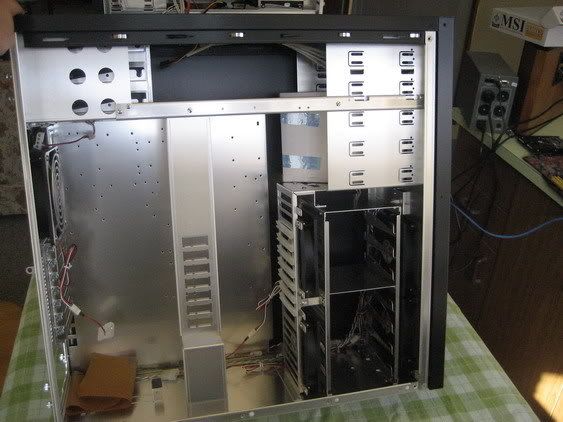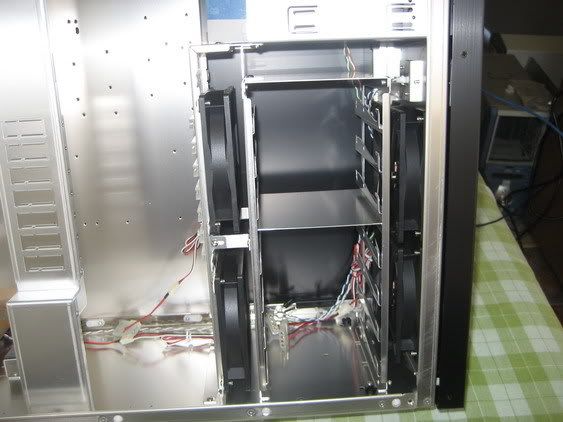 Contents:
I dont have anypictures of the contents, but a quick run down gives us another PSU mounting bracket incase you want to mount 2 psu's, comes with all the screws and nuts and bolts youll ever need for the case (and i gave them a work out dont you worry). You get some clever little plastic things that are used for the expansion card holding system (used these a little also). and one of the most impressive things although small, it comes with a hex tool for screwing those mobo mounting nuts into the removable motherboard tray.
Installation:
Now i know im not the tidiest with cable routing so dont start on me about this, although the case being the size that it is and with plenty of hidey holes i think i did pretty well.
Most of the installation on both rig went off without a hitch, there were a few issues that i will touch on though.
Motherboard mounting was easy thanks to the easy removable motherboard tray, 2 thumb screws at the back of the case and it slides out (provided you have the side panel off 3 thumbs in that one.) and the hex tool comes in handy for making sure the mountings are in tightly (ive had issue in the past when removing board that the mount screws out with the screw still :S)
This is a pic of the tray going back into the case the clearance is minimal on the rail with a Artic Freezer 7 pro... so i was a little concerned that the Thermalright 120 wouldnt fit and i would have to screw the motherboard in with the tray already in place. However, this was not that case as it worked out i could clear the rail by putting the thermalright in first and still had enough angle to slide the tray in at the bottom (crisis averted).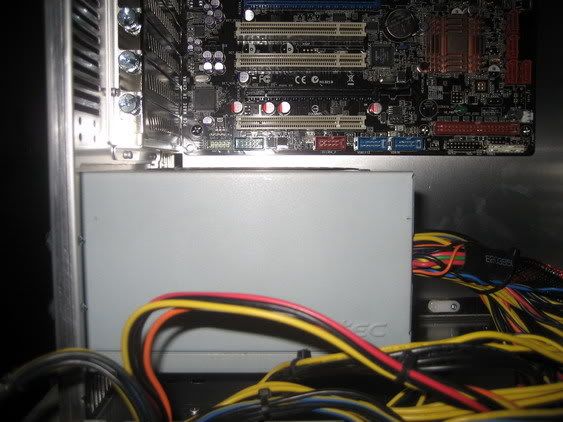 My second issue is shown here, i was initially going to mount the PSU at the top and the HDD cage at the bottom. But found with the HDD cage at the bottom it was to high and blocked access to the motherboards additional USB and firewire ports making it impossible to use them. So i reverted to the PSU being on the bottom which as it shows in the pic there was JUST enough room. I would expect if you have a longer or same length board you could run into issues here.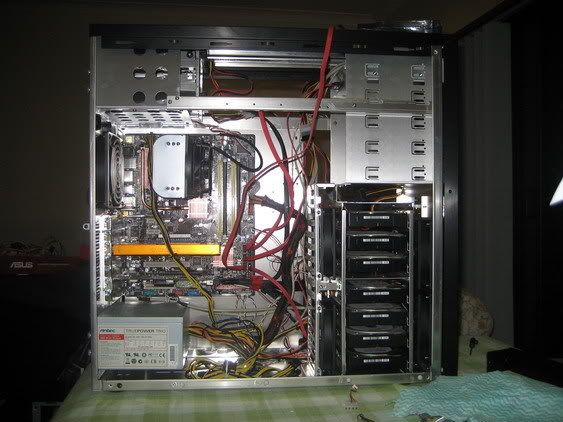 Showing my poor cabling here, but its still pretty neat for me. This is with 10 HDD installed in the fileserver, and yes there are 2 drives on the top of the case in this pic but that was only temporary for backup purposes while increasing the size of the array.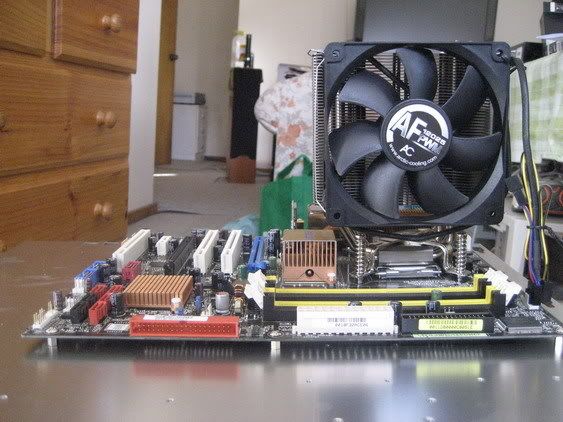 Motherboard mounted on my gaming rig... gee those Thermalright coolers are MASSIVE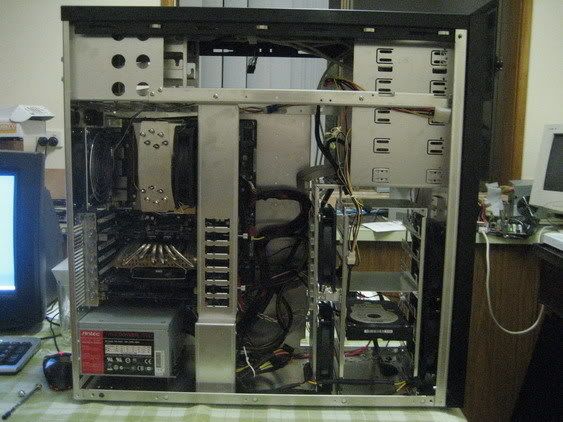 Everything installed in my gaming rig, i have another story about this in another thread soon...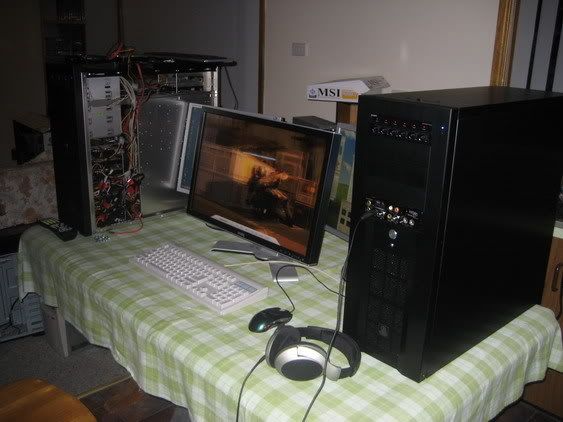 Ahhh 3 monitor goodness, both cases viewable here also.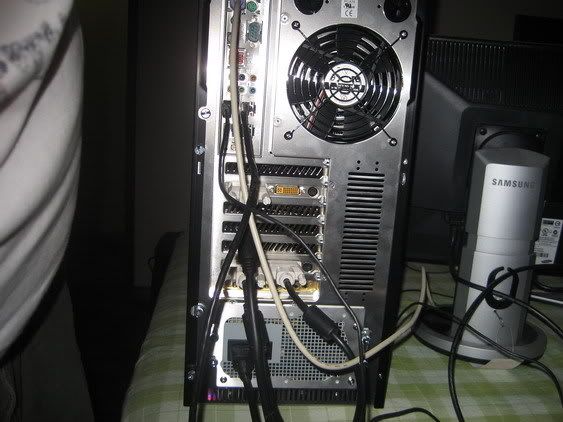 Back of my gaming rig with all porting.
Performance:
Just a quick note here, performance is execellent as i expected, the fans are mighty quiet at full speed (in fact the loudest thing in my gaming rig is my 7900gt fan.) and i had temp drops across the board. The Q6600 used to run at ~50idle now its at ~40c idle. The e6600 rig idles about 2c lower, however, under load if gone from ~50c to ~42's which maybe more due to the Thermalright 120. Also got big temp drops on my hdd's also now being cool to the touch rather than warm.
Conclusion:
All up im very impressed. I bought these cases for $300AU each, although this may seem a bit expensive to some i believe it to be well worth it. The brushed aluminium finish is exquiste and i couldnt ask for anything more in the build quality. The case comes with all you need to use it to its full potential. Cooling performance helps out alot noticing temp drops arcoss the board. I highly recommend this for anyone looking for a high quality case for gaming rigs and storage alike.
Good:
Build Quality
Finish and aesthetics
Cooling and perfomance
Bad:
Price
Still a few minor compatibility problems
If anyone needs questions answered or more detail added im happy to. First time with pics too so if they dont work ease up lol. I have higher quality and more pics also if anyone wants them.
EDIT: Hmm dunno why those last few pics didnt play... is there a limit to embedded pics?
If noone likes this i will cry