I've recently installed a liquid cooling loop into my pc to replace my previous air cooling unit for my cpu. With my previous air cooler, I was seeing idle temperatures around 35C. With the liquid cooling, I'm seeing temperatures around 45-50C at idle and 65C under stress (running cinebench). From what I've read, the goal for idle temps should be around 25-35C. My ambient room temp is at 25C and system temps are around 30-36C.
What can I do to improve my idle cpu temperatures?
While I was not expecting a
significant
increase in cpu temps switching from air to liquid, I was not expecting it to get this much worse.
Technical details about my build:
CPU = AMD Ryzen 7 3700X (PC Part Picker full build list)
Case = NZXT 510 (compact mid-tower)
previous cpu air cooler was the AMD Wraith Prism cooler that came with the cpu. There were no intake fans, just 2 exhaust fans in this setup.
Liquid cooling loop is the EKFluidGaming A240 kit with custom hard tubing and EK fittings
Radiator is positioned in the front with 2 120mm Vardar static pressure fans positioned in a pull configuration (fans and rad came with A240 kit)
No overclocking or custom configs are being used for the cpu. I'm using the same default stock config that was being used for the air cooling setup.
Other info from troubleshooting attempts:
Pump is definitely on and working. Aside from vibrations coming from pump, this is supported by the fact that temperature also sits at ~48C rather than continuing to increase in temperature every couple of seconds.
Fan direction is correct
From what I can tell, loop is free of air except for a few bubbles trapped in the reservoir. I tilted the system a bunch to try and free any bubbles trapped in the rad and cpu block.
Radiator is slightly warm to the touch, but otherwise is mostly cool with cool air being pulled into it.
Thumbscrews on cpu block are tightened sufficiently.
Appropriate amount of thermal paste (EK-TIM Ectotherm that was enclosed with A240 kit) was used and inline with online recommendations (2 rice grains/size of a pea).
This is my first pc build ever and my first attempt at a liquid cooling loop. So any feedback/suggestions are appreciated! Thanks!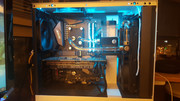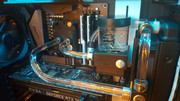 Last edited: