I am having an issue enabling 3 monitors on without display port on amd display driver version 14.2 and up(including beta drivers). The way 14.2 and up detect dvi to hdmi adapters is the cause of the issue and i have not been able to find a way around this.(setup/example listed below).
The TLDR version need to know if there is anyway to set up the driver or card to force the same clock speed on two of the three legacy connections, or anyway to trick catalyst into accepting and using 3 hdmi connections, two of which are dvi to hdmi).
Also I have 0 issues running a 3 monitor(no DP) set up on display driver 14.1. and can run 4 monitors total as i have an active DP to vga cable. So dont suggest that in order to enable a third monitor it has to be DP. Amd lists for this card 3 through dvi/hdmi, 4 with dp, and 6 with dp mst hub.
For those that want more information and how i have this set up. on driver 14.1
Setup : Sapphire r7 265 comes with 2dvi, 1 hdmi, 1DP
3 HDTVs 1 32" philips tv(LCD), 2 19" Coby (Zoran)
Monitor Setup
HDMI -> HDMI : HDTV1(LCD)
DVI-i -> HDMI :HDTV 2(Zoran)
DIV-d -> HDMI : HDTV 3(Zoran)
In Catalyst:
Monitor 1: LCD TV, DTV HDMI
Monitor 2: ZORAN, DTV DVI
Monitor 3: ZORAN, DTV DVI
Adapters are third party dvi to hdmi passive adapter and 1 dvi to hdmi cable
Once I update to 14.2 or above two monitors stay on 1 turns off. I open catalyst and it lists this
Monitor 1: LCD TV, DTV HDMI
Monitor 2: ZORAN, DTV HDMI
Monitor 3: ZORAN, DTV DVI
It does this no matter which configuration i use to connect the monitors, Most that changes is the hdmi switches between the two zoran outputs at time.
I though i might need the special dvi -> hdmi adapters from amd, which enables audio over dvi but that gave the same results and broke the setup on driver version 14.1 as well
(ATI hd 4000 series dvi to hdmi adapter part number: 61400635006)
After googling for a bit i stumbled across an article which explains why i'm having trouble getting this working but cant find a way to adjust the setting.
link
To keep a long explanation short when on 14.1 the monitors are detected as both dvi allowing them to share the same clock timing on the card while the hdmi uses the other clock timing.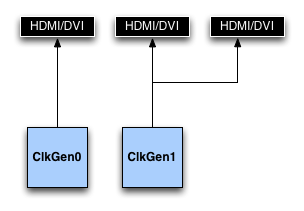 Once i update to any driver version above that or use the hd4000 adapters the card/ catalyst only detects one of the connections as hdmi and forces the other to be seen as dvi enabling the normal clock timing rules.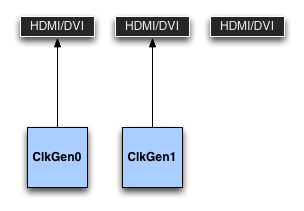 If anybody has any idea of a work around or solution to manually force the two dvi output to use the same clock or have catalyst detect both zoran monitors as both hdmi or dvi so they are able to share the same clock. That would be really helpful. If any more information is needed dont be shy to ask.
picture of set up on 14.1