Hello,
i have question about NH-D15 chromax black, is a possible to use this cooler in Meshify C tempered glass case?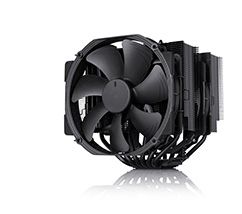 The NH-D15 chromax.black is an all-black version of Noctua's award-winning flagship model NH-D15 premium-quality quiet CPU cooler. Thanks to the same proven dual-tower heatsink design and NF-A15 PWM fans, it stays true to the NH-D15's successful formula of rivalling the performance of all-in-one...

noctua.at
https://www.kingston.com/dataSheets/HX432C16FB3K2_16.pdf
I found, the maximum cooler height in meshify C dark tempered glass is 172mm? or 170mm?
The NH-D15 height is 165mm with 32mm clearence height ram in front.
I have 2xmodul ram with 34,1mm height.
When i want to use the front fan on NH-D15, I have to move front fan up a bit.
The final clearence is 172mm-(165+(34,1mm-32mm)=172-167,1=4,9mm clearence between maximum cooler height and tempered case glass ??
https://ibb.co/gW9m5Zy
Thank you for help
L.
Last edited: