In next days I need to buy some monitor to replace my old tv.
This monitor shouldnt be bigger than 32".
I have two monitors and I cant decide which one to take.
32" Philips 326M6VJRMB
Samsung 32UH850
The main use of this monitor will be TV watching, movies and so on. I want to buy multimedia centre something like apple tv but I think I ll stick to android (xiaomi probably).
I really dont know what to check for daily use, even in the "sunny" room. Qdot samsung has only 250 nits of peak brightness whilst Philips has HDR 600 (more than 650nits in peak).
When I watch some comparison on the youtube I can clearly see the power of Qdot technology, those colors are impressive but Im quite scared from 250nits.
If there is too much bright room Im scared that I wont see anything on the "TV".
I also checked LG 32UD99, it is great monitor I guess, but many reviews say that one half of the screen has different color temperature and some parts of the display have tendency to turn green even after replacement.
Please, help me. I need to buy something in two weeks, my little daughter have to watch toy story, daily
.
Thank you very much.
Here are some links but they are in my main language (slovak).
https://www.alza.sk/32-samsung-u32h850-d5091482.htm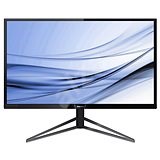 LCD monitor 32" Philips 326M6VJRMB na www.alza.sk. ✅ Všetky informácie o produkte. ✅ Vhodné príslušenstvo. ✅ Hodnotenie a recenzie 32" Philips 326M6VJRMB od...
www.alza.sk
Last edited: