Hello everybody. Here's my problem: I assembled my first build ever a couple of days ago (so probably my decisions were not the best ones) and everything went smooth until yesterday when my pc suddenly turned off while working out some shaders in Unity. This morning I installed GTAV and after a few minutes (no more than 15) it turned off again. I've been troubleshooting the whole day with the tools I have (I cannot use spare parts to test) and this is what I've come to:
The CPU stress test (OCCT) goes well. Max temps get up to 80°-90° at 100% load.
Every GPU stress test shuts down the system after a couple of minutes. The temps before this happens are about 80°-90°.
I manually set the GPU fans to 80% or so when it reaches 50° and 100% after 60° just to test and the pc still shuts down.
This is my system (everything is brand new with the stock configuration, except for the RAM which is new but set to XMP profile):
CPU: Ryzen 5 3600 (basic clock. Stock cooler)
GPU: XFX RX580 8GB (basic clock, I think)
RAM: Corsair LPX 16GB 3200Mhz
PSU: Corsair CV650W 80+Bronze
Board: Gigabyte B450 Aorus Elite
Chasis: Corsair Carbidge Spec-06. Two 120mm fans: front and rear.
Samsung Evo 970 Plus Nvme M.2 500GB
Windows 10/64bit
I upgraded all the drivers (including Boad and GPU drivers) and the pc is in a table with lots of airflow, so if it is overheating it has to be internal.
Everything works perfectly under standard usage but when the GPU gets stressed it just shuts down. Is there anything I can try to check if this is a drivers issue, or overheating, or a defective part, or something else? Here's some of my voltages: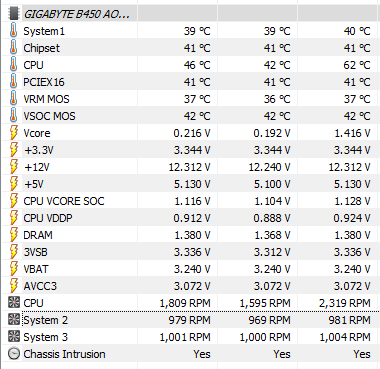 Thanks in advance!