Looking at changing out some QL120's for new fan options on a 3080ti hybrid cooler. My three choices are either the Noctua NF-F12, NF-A12x25, or Arctic P12 PWM PST CO. I ran into some confusing information on Noctua's website about performance.
Noctua itself recommends the NF-F12 for radiator cooling (at least in the chromax and standard lines - the redux line recommended the P12).
The website then included this graphic: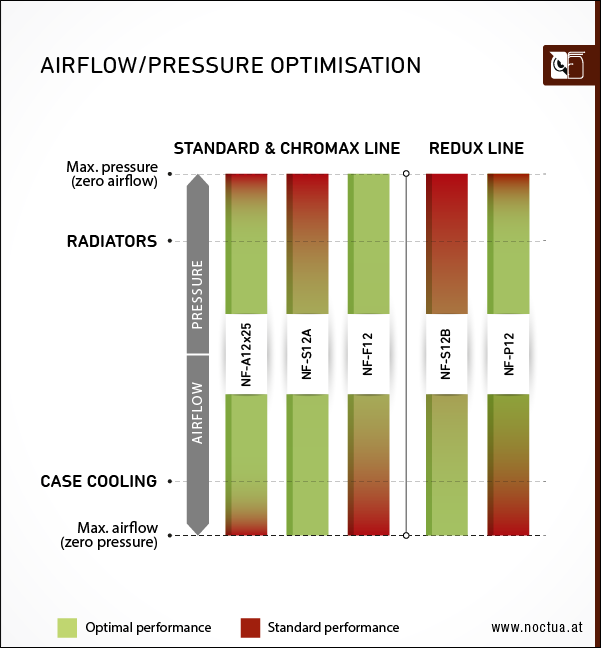 From here, again, looks like the NF-F12 is solid.
Where I got confused was the next graphic the website provided: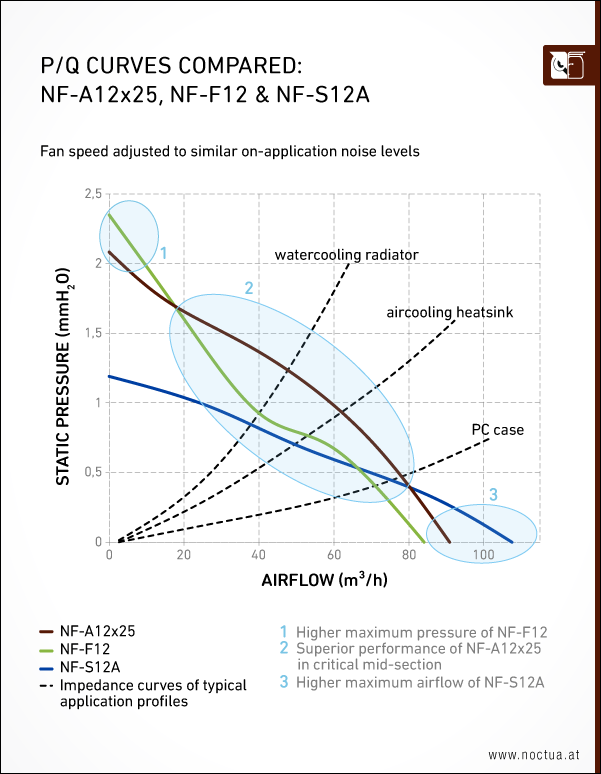 This graph appears to indicate that the NF-A12x25 would actually perform better as a rad fan than the NF-F12, getting better static pressure than the NF-F12 at the average impedance of a "typical" radiator. The original page also says: "For best results in all types of application, Noctua recommends the NF-A12x25 ... Please see
this page
for a detailed performance comparison of NF-A12x25, NF-F12 and NF-S12A as well as further explanations why the NF-A12x25 provides best results in real-world applications, despite being neither a pressure- nor an airflow-optimised model." ("this page" link routes to 2nd graphic above)
Am I reading this wrong? I assume Noctua knows what it's talking about when it recommends the NF-F12, and the NF-F12 does get higher overall static pressure (2.61mm H2O vs 2.34mm for the NF-A12x25). Should I be paying attention to the P/Q curve if my only intended application is a radiator? Should I even be concerned about the "critical midsection" (their words) of the performance curve? Is the performance difference because of the noise-normalized fan speeds?
Then, of course, there's the budget elephant in the room, with the Arctic P12 PWM PST CO claiming to match pretty much every metric that Noctua measured - tech specs have the same nominal noise level (.3 sones, which looks like about 22.6 dBA), and about the same static pressure as the NF-12x25, claiming 2.2mm H20. Plus it's more than 50% cheaper per fan. I've had decent experiences with Arctic P14's, with my only complaint being a little harmonic hum around 1400-1450 rpm.
I have pretty sensitive hearing, enough that the hum was noticeable but not frustrating. I've had no experience at all with Noctua fans, other than reading reviews and specs. Do they really meet their claims on noise production?
If the Noctua's are legitimately better fans than the Arctics, I'm willing to drop the money on them. Performance and noise hold equal importance for me in this scenario. Price isn't so much a factor.
Probably overthinking this one, but I live in a place where "expedited delivery" basically doesn't exist, military mail is the only way to get things shipped over, and I really don't want to deal with returning items.