Hello
I'm trying to solve this problem playing world of tanks my reticle has became jumpy and inconsistent. I've tried to remedy this myself but can't find the cure. I don't have this issue in other games like Apex legends, Warzone so on.
The first thing is my ping goes from 40 down to 1ms, now I live in Scotland so can't see how that's possible when all the servers are outside the Uk.
I've spoke to world of tanks and they say it could a hardware or network issue. Game is also running in Admin mode.
Things I've tried so far
Changed ISP from Virgin Media Cable to CityFiber FTTH Very stable and consistent ISP, 900up and Down connection.
Replaced all ethernet cables (Tested new cat6 then cat8 no change) both 10m cable.
Formatted PC and made a windows image so I can test different settings
Bios updated, all drivers from the manufacturers installed. Even tried without anything else installed this never worked.
Removed power saving from ethernet and windows.
Changed Ethernet from my onboard Intel ethernet to a Realtek ethernet still no change.
Tried running the game in administrator mode and disabled full-screen optimization and High DPI scaling override No change
Tried running the system on basic graphics to see if it was an input lag issue. No change
Made sure my memory timing is correct and no overclocks on the GPU or CPU.
Changed Mouse DPI and Polling rate from 1000 to 500. No change. Removed windows Enhanced pointer precision. No change.
Change power plan to high performance
Installed Intel proset drivers to check, I got this error (Already replaced my ethernet with a new one, nothing changed, also change duplex to auto)
Removed all wireless equipment i.e keyboard, mouse and headset with wired still no change. (Device clean up was used)
Tested Wifi 2.5 and 5.0 Does the same ingame.
Changed mouse settings from 4.50 dpi and 1000 polling rate to 800dpi did clean up the aim lag abit but still lags here and there.
Cable Quality Status : Failed
Cable quality is poor or no cable is connected. Possible causes: Faulty cable, faulty connector, or a speed/duplex mismatch. Verify that the speed/duplex setting on the switch/hub is configured for auto-negotiation.
Cable Integrity Status : Failed
The test detected a bad connection. Distance to problem: 225 meters.
I also had this issue with Virgin media but this is a brandnew install of FTTH and the default router Icotera i4850.
My system
Psu - Super Flower Leadex Titanium 850W
Gpu Msi Rtx 2070 Super
Intel Core i9-10900K Speed Binned 5.0GHz
Asus ROG Strix Z490-G Gaming
Team Group 8Pack Edition 32GB - DDR4 PC4-28800C16 3600MHz Dual kit
Mouse logitech lightweight mouse
Headset logitech G733 LIGHTSPEED Wireless
Keyboard logitech G910
Monitor ViewSonic Elite XG270 240hz
Thinkbroadband monitor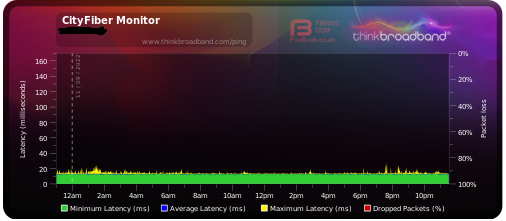 Ping plotter test to check for packet loss

Example of ping 1ms
Example of Aim lag
Last edited: