Hi guys,
Just a
heads-up
article, and a precautionary measure. Just thought of informing you guys as well. Some of you might have read this recent news though.
It appears that hackers have compromised the support system of American video game publisher 2K and now are sending support tickets to gamers containing the
RedLine password-stealing malware
. 2K is the publisher behind numerous popular game franchises, including NBA 2K, Borderlands, WWE 2K, PGA Tour 2K, Bioshock, Civilization, and Xcom.
Starting today, 2K customers began receiving emails stating that they opened support tickets on 2ksupport.zendesk.com, 2K's online support ticketing system. While the users confirmed these tickets had been created, numerous recipients on
Twitter
and
Reddit
stated that they were not the ones who opened the tickets.
Soon after the tickets were opened, the gamers received another email containing a reply to their ticket from an alleged 2K support representative named 'Prince K.' This email includes an attached file named
'2K Launcher.zip'
hosted directly on 2ksupport.zendesk.com, which pretended to be a new game launcher.
"Thank you for reaching out to 2K Support! The download for the new 2K games launcher can be found below,"
read the support tickets sent to 2K customers.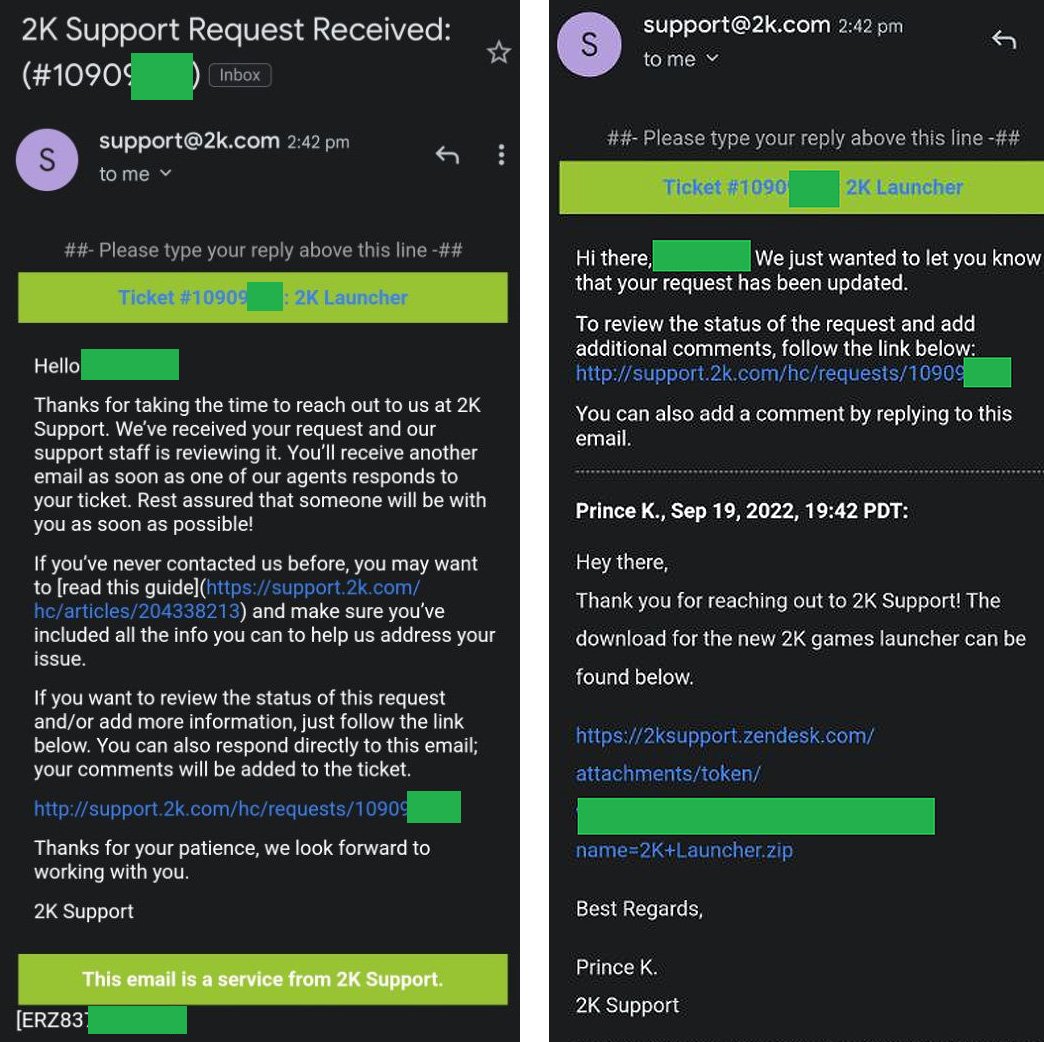 The downloaded archive contains a 107 MB executable named '2K Launcher.exe,' and based on its file properties, you can see that it is not an official 2K executable. For example, the file is not digitally signed by the company and has a name of 'Plumy' and a file description of '5K Player,'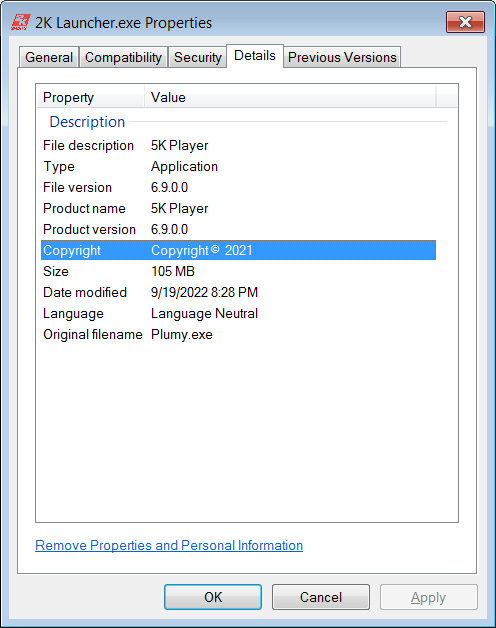 According to
VirusTotal
and
Any.Run
, this executable is the RedLine information-stealing malware. RedLine Stealer is an information-stealing malware that attempts to steal a wide variety of data, including browser history, browser cookies, saved browser passwords, credit cards, VPN passwords, IM content, system information, and cryptocurrency wallets.
It is also one of the most widespread malware sold on dark web markets and hacking forums, now used in various attacks such as phishing, YouTube videos, and fake game cracks and cheats. If you have downloaded the fake 2K Launcher and executed it on your Windows device, you should immediately scan your computer with antivirus software and remove what is detected.
Furthermore, it is
strongly
suggested that you change your passwords at any sites you frequent to a unique and strong one. At this time, 2K appears to have taken their support system offline, with users unable to access their tickets with their login credentials.
News Source:
https://www.siliconrepublic.com/enterprise/2k-games-hack-help-desk-malware#:~:text=The gaming industry has taken,its support account on Twitter
https://www.techpowerup.com/forums/threads/2k-games-hacked.299645/#post-4851610
2K discovered this hack, and is sending out e-mails to gamers warning them about the incident, to apprise them of what it's doing, and to help them avoid this malware. 2K Games in the e-mail to gamers said that it's working with Law Enforcement to identify and bring to justice the people behind this hack. In the meantime, they warned gamers not to click on unknown links in e-mails and to use reputable antivirus programs.
PS:

@ Forum MODS/Admin, Please feel free to lock or even Delete this topic, IF by any chance it breaches the Forum guidelines/rules. No issues at all ! I just wanted to share this news for giving a heads-up.
Thanks for reading, NICK.
Last edited: