Hi, so I've had the following build for some years now:
Processor: i5 4670k 3.40 GHz
Memory: 2x4 GB DDR3 Ballistix ram
Motherboard: MSI Z87-G45 Gaming
Graphics card: AMD R9 290
Storage: 512 GB Crucial SSD
PSU: Seasonic M12II 620W
and my OS is Windows 8.1 Pro.
I hadn't used my graphics card since the summer of 2018 because my screen would go black after a few minutes of being logged in. This was on Windows 10. Since I wasn't really gaming anymore at the time I didn't mind too much and just unplugged my GPU and just used Integrated graphics instead. However, now I've reverted back to Windows 8.1 Pro (because of some additional issues with Win10) and would like to use my R9 290 again. I don't get a black screen now, however both Device Manager and GPU-Z call my GPU "Microsoft Basic Display Adapter". Here's the GPU-Z screen: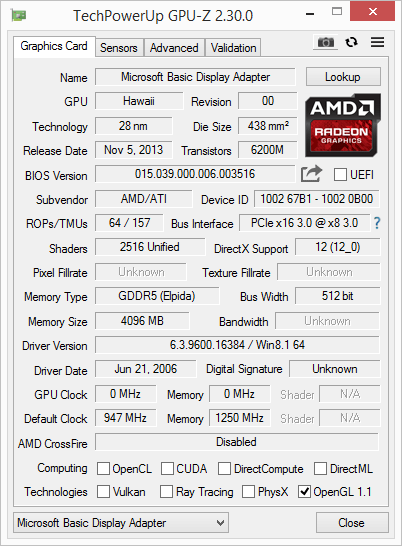 I've updated my MOBO BIOS recently, and have tried installing my Graphics Card drivers a few times but each time results in a black screen that can only be remedied by restarting my PC. I don't really know what else to try, so would really appreciate some advice. Thank you.
PS.
It might be important to note that I'm using a DVI connected monitor with a resolution of 1024x768.