Hi, all.
I installed HWiNFO64 for the first time this morning to help troubleshoot another issue I was having and the moment it first opened up I noticed it shows my RAM clock speed as being 1066MHz, rather than the listed 3200MHz it should be.
Here are my system specs:
Case: CoolerMaster HAF 932
Motherboard: ASRock FATAL1TY Z170 GAMING K4
CPU: Intel I7-6700
GPU: Gigabyte GAMING-4GD GTX 970
CPU cooling: Stock I7-6700 fan
RAM: G.SKILL 32GB (2 x 16GB) Ripjaws V Series DDR4 PC4-25600 3200MHz
PSU: EVGA SuperNOVA 850 G2
I've been running this system for about a month now and haven't noticed any issues. It's certainly an upgrade from the previous system I was running (using the same HAF 932 case and same GPU):
Motherboard: Asus Rampage III Extreme
CPU: Intel i7 980 3.33GHz (OC to 3.47 GHz by builder)
CPU cooling: Asetek 570LX
RAM: 24GB (4GBx6) Corsair Vengeance DDR3-1600
PSU: Thermaltake TR2 TRX-1200M 1200W
I wasn't aware of any memory issues on the old system and I'm not noticing any issues with the new upgrades - everything seems to be running better and faster than it was with the previous config, but perhaps that's just the difference between the older and newer CPUs?
When I fired up HWiNFO64 this morning this is the screen I looked at first: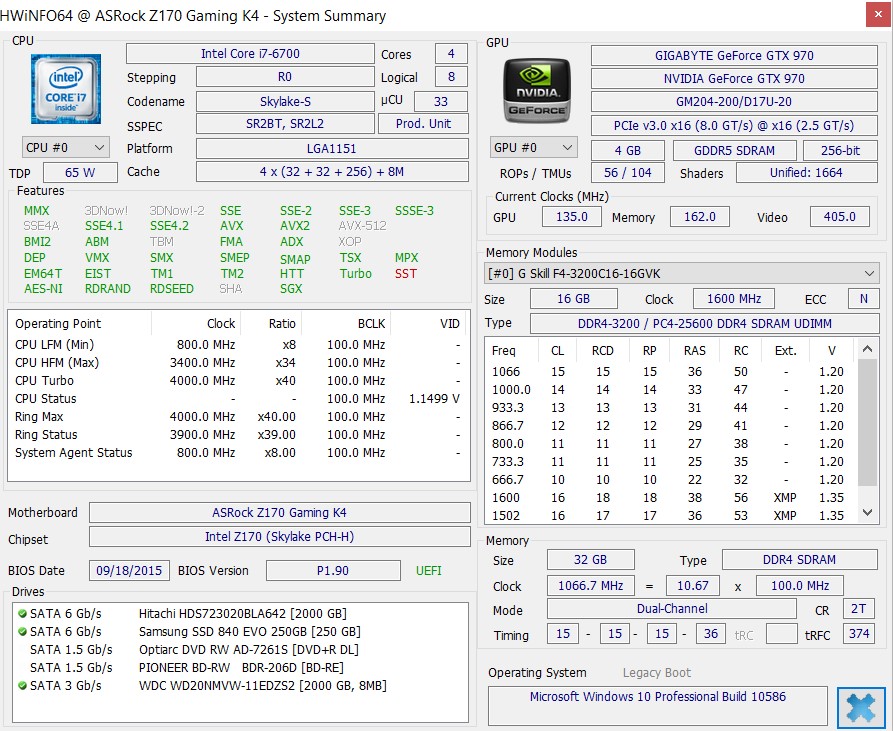 The RAM clock speed should be 3200MHz, right? Not 1066? I know next to nothing about messing around with BIOS settings, but I did enter the BIOS to see if there was anything obviously wrong (to me anyhow) with the memory settings, but I saw that the SDRAM handling was set to "Auto." I assume that should be good?
I then went into the Win10 task manager to look at the Performance tab. Here's what I see: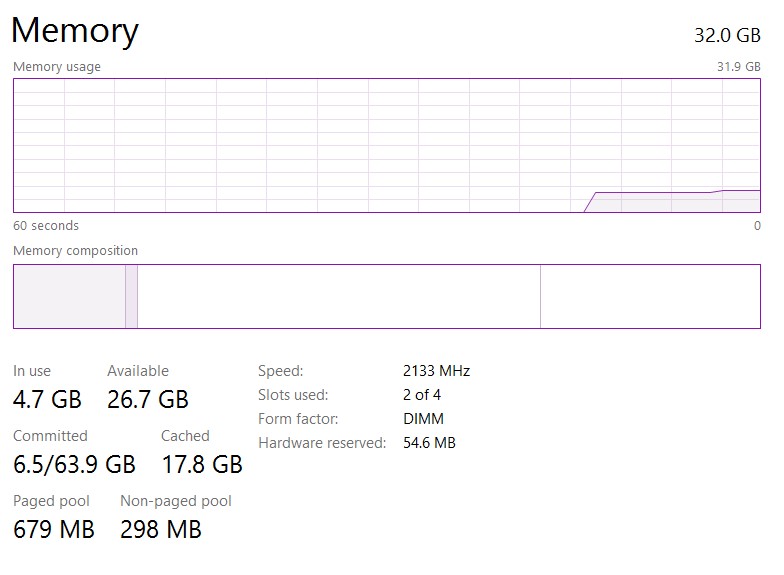 Here it's showing the speed to be 2133MHz, which is faster than what's reported in HWiNFO64, but still much less than the 3200MHz at which it should be running.
So, I am in need of assistance. I am a complete noob when it comes to troubleshooting RAM or BIOS issues, so I don't really even know where to begin... other than here, of course.
Thanks in advance for any assistance!
~ Greg ~