The Rosewill THOR
Pictures: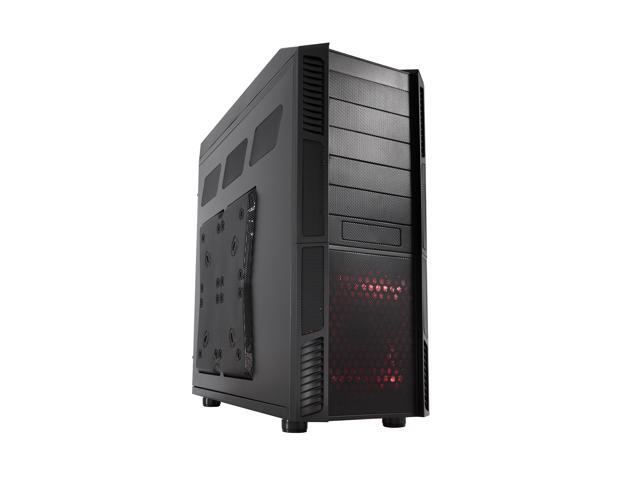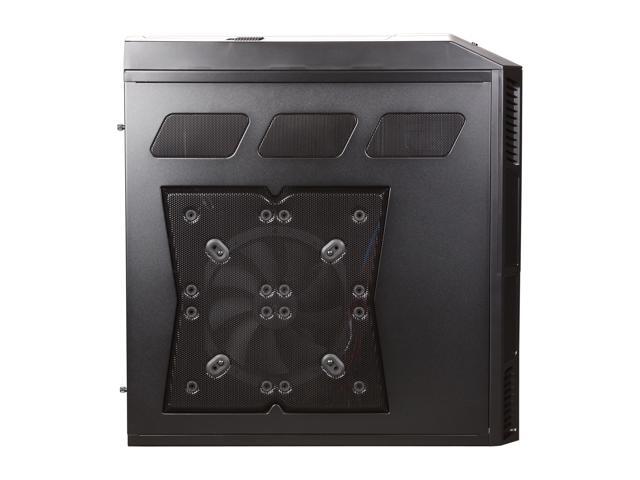 Specs:
Type:ATX Full Tower
Color:Black
Case Material:SECC Steel
With Power Supply:No
Power Supply Mounted:Bottom
Motherboard Compatibility:Micro ATX, ATX, E-ATX, XL-ATX
With Side Panel Window:No
Expansion:
External 5.25" Drive Bays:6
External 3.5" Drive Bays:1
Internal 3.5" Drive Bays:6
Expansion Slots:10
Front Ports:
1 x USB 3.0
1 x e-SATA
3 x USB 2.0
Audio In/Out(AC97, HD)
2 x Fan speed control knob
Cooling System:
1 x Rear 140mm Fan
1 x Front 230mm Red LED Fan
1 x Top 230mm Fan
1 x Side 230mm Fan
Side Air duct:No
Physical Specs:
Dimensions(L x W x H)
21.89" x 9.14" x 22.84" (bezel included)
20.08" x 9.14" x 22.84" (bezel NOT included)
Weight:30.42 lbs.
Features:
-Supports up to XL-ATX Motherboard (13.5" x 10.3")
-10 expansion slots
-Gaming type – Allow to swing top fins to increase air flow
-Front 230mm fan is equipped with LED on/off switch (default is LED off)
-Full black interior
-Advanced cable management design
-Advanced Cooling System :
-Front 1x 230mm Red LED Fan (pre-installed)
-Rear 1x 140mm Fan (pre-installed)
-Top 1x 230mm Fan (pre-installed) or 2x 120/140mm Fan (option)
-Side 1x 230mm Fan (pre-installed) or 4x 120mm Fan (option)
-Bottom 1x 120/140mm Fan (option)
-Top mounted dual fan speed control knobs support up to 6 fans
-Screw-less design for 5.25" Devices & 3.5" HDDs
-Easy to remove/install front 5.25" bay covers
-HDD trays support 3.5" or 2.5" HDD/SSD
-Easy-clean PSU filter
-Top mounted IO ports– 1x USB 3.0, 1x e-SATA, 3x USB 2.0, Audio out, MIC in
-Advanced Bottom-Mounted PSU Design
Buy:
http://www.newegg.com/Product/Product.aspx?Item=N82E16811147094
More pictures:
http://www.newegg.com/Product/ImageGallery.aspx?CurImage=11-147-094-Z03&ISList=11-147-094-Z01,11-147-094-Z02,11-147-094-Z03,11-147-094-Z04,11-147-094-Z05,11-147-094-Z06,11-147-094-Z07,11-147-094-Z08,11-147-094-Z09,11-147-094-Z10,11-147-094-Z11,11-147-094-Z12,11-147-094-Z13,11-147-094-Z14,11-147-094-Z15,11-147-094-Z16,11-147-094-Z17&S7ImageFlag=1&Item=N82E16811147094&Depa=0&WaterMark=1&Description=Rosewill%20THOR%20Gaming%20ATX%20Full%20Tower%20Computer%20Case%20support%20XL-ATX,%20Four%20Fans-1x%20Front%20Red%20LED%20230mm%20Fan,%201x%20Top%20230mm%20Fan,%201x%20Side%20230mm%20Fan,%201x%20Rear%20140mm%20Fan,%20Option%20Fan-1x%20Bottom%20120/140mm%20Fan
Let's discuss this, will this case be the new Haf-X?
It looks more like the poor man's Haf-X.
I looked at the pictures and the cable manegement looks exceptional, The cooling is just outstanding look at how many fans it has just
.