Hi. Been using my PC for over 2 years since I built it. Summer is rather humid here and I use standard stand fan. I live 200 meters from coast. I don't spend a lot of time using my PC.
I had to disassemble PC recently and noticed how fan heatsink's (Wraith Spire) screws originally coated in black became partly rusty.
I noticed how some of screws on video card's (RTX 2060) PCB turned rusty. Noticed tusty spots in some areas of PCB as well. Front side has slightly white spots as well. I don't know if it's corrosion: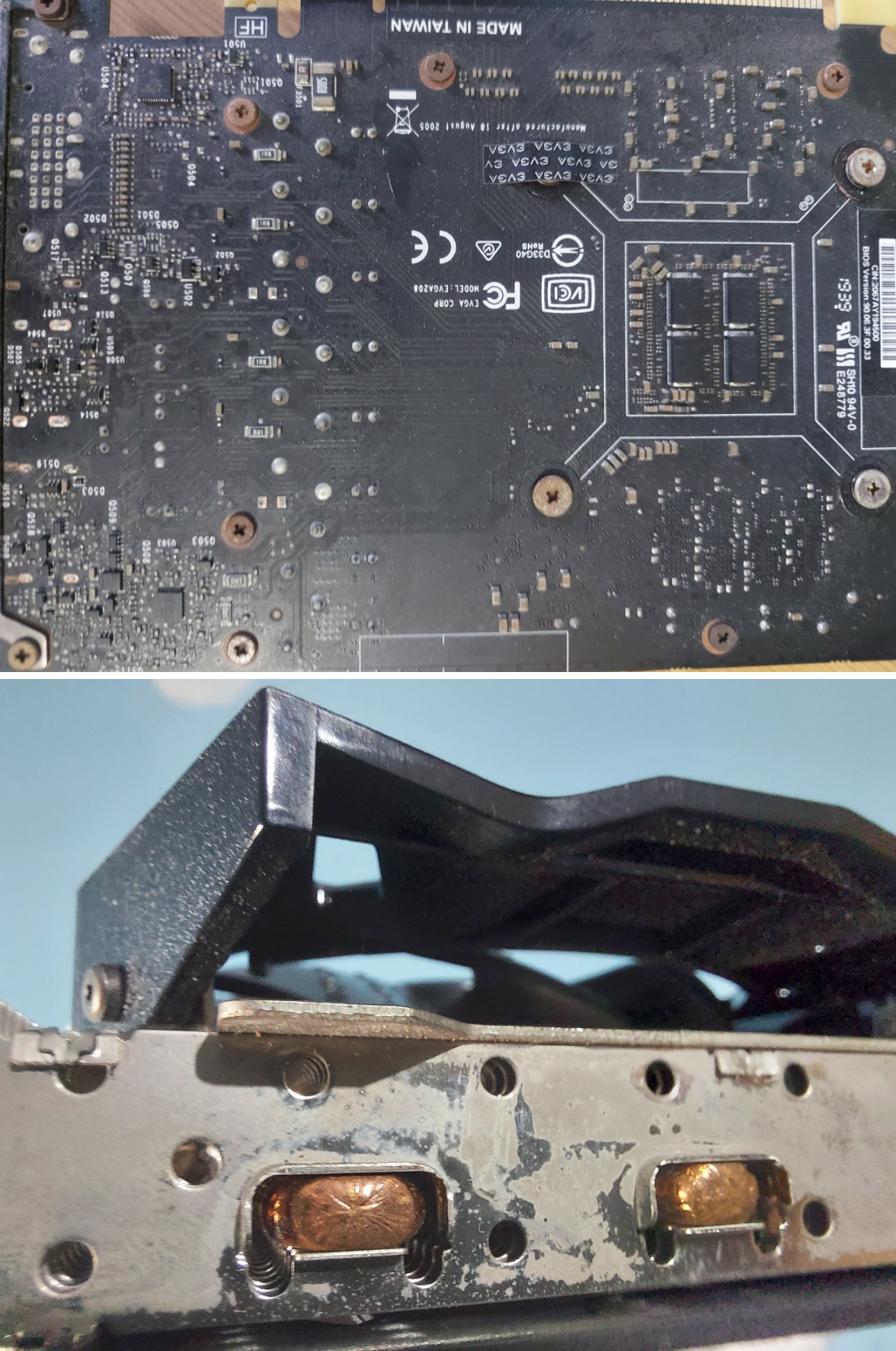 My first question is about cleaning video card. Should I use IPA 99% with cotton swab to clean front of video card and screws? Or should I use IPA 99% spray to apply where rust and spots are? Do I sweep where dust and spots are on PCB with small brush first before cleaning with IPA?
I also have anti-static brush from LCD monitor cleaning kit. It is much softer than small brush that I have but it's anti-static at least.
I know there are sprays for cleaning electronics. I noticed dry McKennik is more expensive than others. There's McKennik spray lubricant that in addition to cleaning adds protective coating against rust, corrosion.
Should I clean contacts first and then apply spray lubricant? Can I apply lubricant after spraying with IPA/McKennic dry contacts cleaner?
I need to find a way to reduce humidity in my room. I haven't measured it but rust and spots are sufficient indicators that it exceeds normal levels.
I saw dehumidifier on Chinese website that ramges between $35-$50 in cost but it is smaller than standard dehumidifier appliance that costs $450. Do I need expensive one just to keep PC in lower humidity?
There are 10g/50g/100g silica gel packets that I could try to fot inside the PC case. How many would fit and be enough though? My case os Coolermaster MB511 RGB. If I would to replace air cooling with liquid cooling, I would need a more closed case to minimize air getting inside so silica gel packs would be more effective.
I don't know what else can reduce humidity. Don't want to leave PC running 24/7. There is conformal coating spray that covers PCB in blue coating making it corrosion, rust, dust and static charge resistant but it has potential to cause more problems.
Last edited: