So, it seems I didn't win the silicon lottery with my new 5800X or
I don't know how to overclock it
.
My PC:
Aorus Elite b550 Rev 1.0
Corsair Vengeance PRO RGB 4x8GB (32GB) at 3200 Mhz. X.M.P enabled. 16 - 18 - 18 -18 - 36 and tRC 56 instead of 54
Ryzen 7 5800X
Noctua NH-D15s with a second Nf-a12x15 Pwm fan
MSI RTX 3080 Ventus 3x OC
Sentey SDP750-SS 750W 80+
Thermaltake V250 TG ARGB Case
So I started replacing my R7 3700X with this new CPU, without reinstalling windows or changing BIOS. I'd already
f10 version
that supports 5x series. I enabled X.M.P and tried Warzone. The next day I couldn't boot, no BIOS boot, so I removed and put again the CMOS battery to reset BIOS settings and I could boot again. I tried then the last BIOS version, F13a but after a few minutes in desktop, the temperature went very high (90 C) on idle... I tried to apply an undervolt changing only the VCORE but still getting high temps.
So I tried after that, the F12 bios version, it seems very stable, not high temps on idle (32 C). I get 90 C running prime just in the first 10 minutes and never goes down, the frequencies go down instead (4000 mhz).
So, stock frequencies, stock voltage, very high temps. I get 86 C playing Warzone for instance.
For AMD this is normal, you can see their response in this reddit post.
The problem is when I want to overclock this thing. I tried a lot of combinations only changing VCORE (voltage), CPU Ratio (frequency) and PBO. Enabling or disabling PBO, voltage from 1.1 to 1.4v and CPU ratio from 4.6 to 4.8. I can't make it stable, I get errors running Prime95 on the first 10 minutes and the PC restarts after that, very unstable.
I tried 4.6 with 1.35v but I got very high temps, like 102 C in short time.
I have very good airflow, let me show you: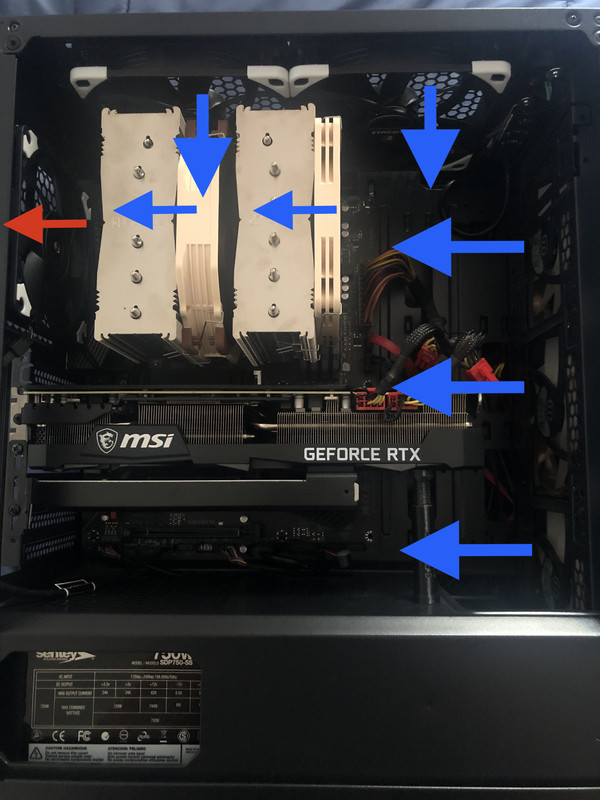 Front: Thermaltake case's fans fixed at 1000 rpm (3x120mm).
Top: 2x Noctua Nf-a14 Pwm Chromax.black.swap 140mm
Rear: Noctua Nf-a12x15 Pwm Chromax.black.swap 120mm
CPU: Noctua NH-D15s + Nf-a12x15 Pwm.
I used the dot method for the thermal paste NT-H1 that came with the D15s
My room is at 24 C with air conditioner.
I don't know what to change to use this at maximum capacity and get normal high temps (80 C max)...
Will I get a lot more FPS if I run this CPU at 4.8? Is this even worthy?
Should I remove the D15s and check the thermal paste?
Should I reinstall windows? (for me this is the worst thing I can do, I believe I won't get different results)
I know I'm an early adopter too, there are drivers and bios versions involve indeed.
Last edited: