https://www.ebay.co.uk/itm/Seasonic-S12II-520-Bronze-Silent-520W-Power-Supply-80-Plus-Bronze/113227394529?ssPageName=STRK:MEBIDX:IT&_trksid=p2055119.m1438.l2649
https://www.ebay.co.uk/itm/CORSAIR-TX650M-Semi-Modular-ATX-PSU-650-W/123816943496?epid=25032252040&hash=item1cd4109f88:g:AGQAAOSwJO9dFNY9
I am in the market for a new PSU after my crappy XFX Pro 650 watt core edition has become faulty when gaming.
Back in 2013, I bought the XFX based on good reviews such as this one. So I felt like I had made an educated decision, but now apparently XFX is a hunk of junk.
This is one of the reviews I made my decision on.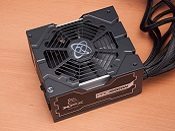 Introduction After having reviewed XFX's Pro 750W Black Edition power supply I have high expectations of this next power supply from XFX. The XFX Pro 650W Core Edition power supply that we have here today is XFX's attempt at a well priced power supply powerful enough for most high end single and...
Anyway, I have narrowed my search down to the above two units linked at the start of the thread.
The Seasonic has the advantage of being the most reputable brand, and is £20 cheaper.
However the Corsair has the advantage of being able to supply 120 more watts and is also semi modular, a big plus for cable management.
The Corsair can also be returned physically to my local branch of the retailer whereas the Seasonic is bought from far away. The Corsair is 80+ gold whereas the seasonic is 80+ bronze.
However, the Corsair is £20 more expensive.
At the moment, despite it's advanced cost, I am leaning towards the Corsair, despite the Seasonic being the more reputable brand.