Hi guys,
I just bought an HP Elite Convertible Mini Tower from Craigslist to play around with. It didn't come with any ram, and upon doing research, it seems that this system can go up to 32gb (PC3-12800 1600MHz). I could get a used single 8gb stick for cheap on E-bay, but was wondering if it was better to just get dual 4 or 8 GB sticks instead, something like these:
https://www.newegg.com/g-skill-16gb-240-pin-ddr3-sdram/p/N82E16820231637 or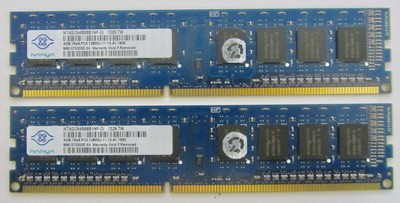 Manufacturer Nanya. Speed 1600MHz. Type DDR3 SDRAM. Otherwise, an unpaid item case will automatically be opened. Varies by location.
https://www.ebay.com/itm/Samsung-8GB-PC3-12800-DDR3-1600MHz-Unbuffered-M378B1G73DB0-CK0/254422548810?epid=12021976020&hash=item3b3cc4014a:g:J10AAOSwxSldZoOc&LH_BIN=1
Please note that I don't want to spend a whole lot on this system, but will add a low profile video card in the near future
.
Last edited: