Hello everyone,
a few days ago while playing (HITMAN 3) my pc had a massive fps loss, in certain areas the game was unplayable. Then it got back to a kinda acceptable level but remained a constant fps loss in many games.
It happened from one day to another, I already had the latest drivers for 2 weeks, the only thing I don't know is if windows installed updates in that day.
MY PC:
GIGABYTE Z370P D3
i5 8400
GTX 1060 6GB
16GB DDR4 2133mhz
PSU: be queit! System power 7 600W (bought new in 2016)
Here are a few examples, obviously i never changed any graphical setting.
Spider-Man remastered - finished the main story with 0 issues and then it became unplayable in many areas (combat, wide open areas, parks with trees) with fps down to 30 or so
Batman arkham knight - noticed a drop in max and avg fps (never under 60) while running the benchmark, based on my memories
MOTOGP22 - noticed fps loss (below 60) in certain crowded areas
Far cry 5 - noticed a drop in max, avg and min fps, based on saved benchmarks that I have, here is an example: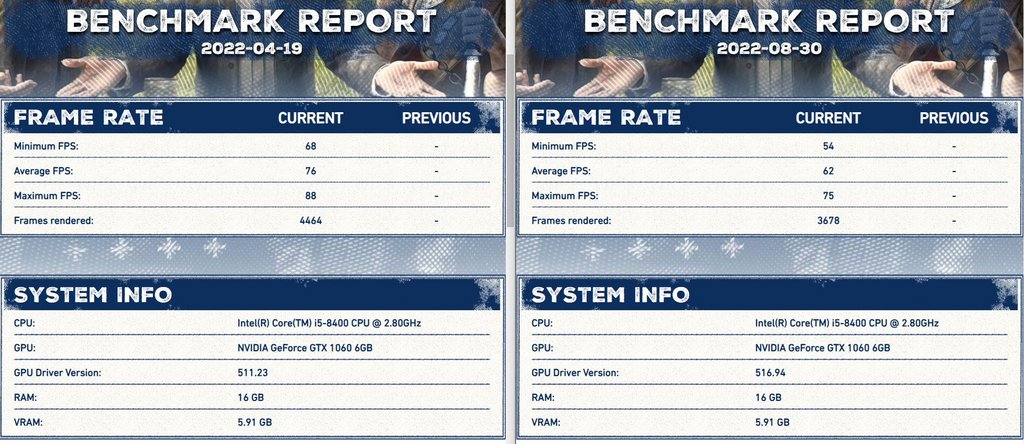 using msi afterburner i didn't notice any high temperature, gpu around 70 Cand cpu around 60 C. GPU was always 99% usage
Things I tried that but didn't work:
reinstall older gpu drivers
reinstall latest gpu drivers
restore windows to previous point
reinstall windows option (local installation, keeping personal data)
reinstall windows option (download from cloud and wipe all drives)
uninstall gpu drivers with DDU and reinstall
I really don't know what to do at this point, any idea?
Thanks
Last edited: