About 6-8 months ago I did a custom build desktop. I'm not new to building out PC's, so my knowledge is not limited but I'm having an issue with my current setup. At any given point for absolutely no reason my machine is turning itself off randomly & I suspect now that it maybe the power supply, although I'm not entirely sure and do not want to start replacing things until I have a better handle on the problem. It has been awhile since I've built a machine. I used a laptop for many years. I want to make sure its not a "
builder
" error.
Here Are The Specs:
Kentek 400 Watt 400W ATX Power Supply ATX12V SATA 20/24 Pin Intel AMD KENTEK Brand Power Supply
Rosewill Micro ATX Mini Tower Computer Case, Supports Micro-ATX/Mini-ITX M/B, Supports CPU Cooler Height up to 140 mm - SCM-01
ASRock J3455-ITX Intel Quad-Core Processor J3455 (up to 2.3GHz) Mini ITX Motherboard / CPU Combo (Actually this is a 1.5GHZ processor)
Seagate Desktop HDD ST1000DM003 1TB 64MB Cache SATA 6.0Gb/s 3.5" Internal Hard Drive Bare Drive
2 204-Pin DDR3 SO-DIMM DDR3 1600 8GB RAM (Total 16GB)
LG Electronics 14X SATA Blu-ray Internal Rewriter without Software, Black Model WH14NS40 - OEM
APEVIA CF12S-BK 120mm Case cooler Fan
Another 80mm fan but don't know the make/model at the moment.
Windows 10 Home 64BIT
I've installed a few temperature monitors on the PC including HWMonitor and a few others that really did not work very well. I have not really noticed any
super high temps
in the setup over the course of time that I've monitored this (about 2 weeks).
You can see my readings with HWM below: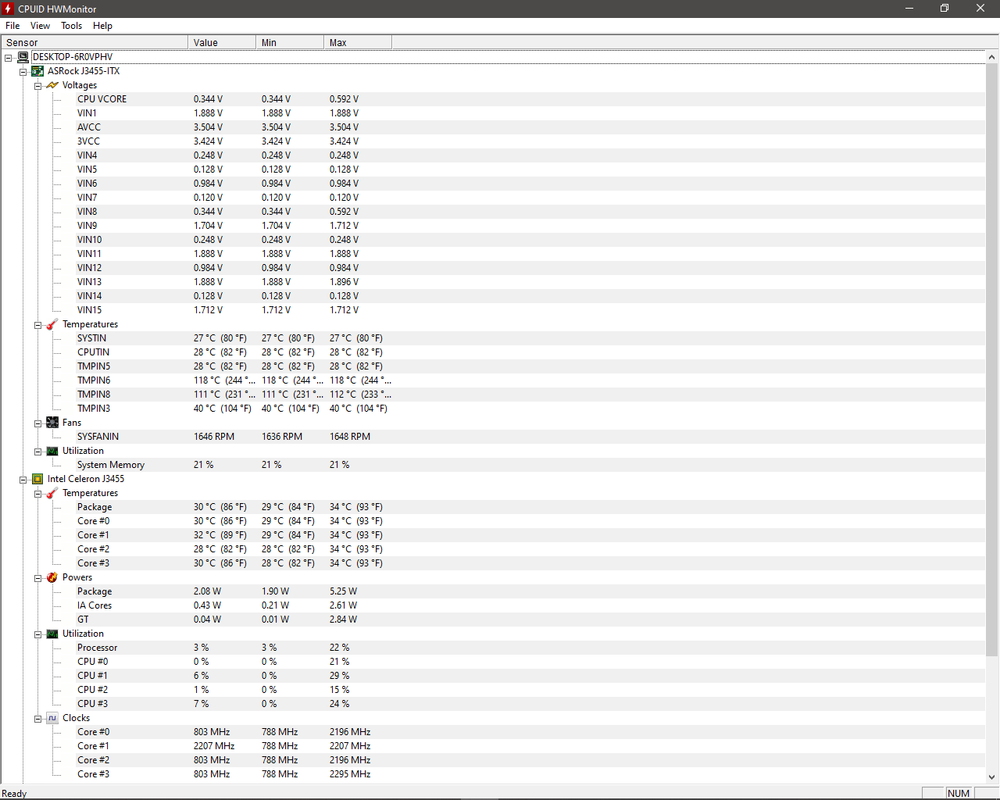 ...AND: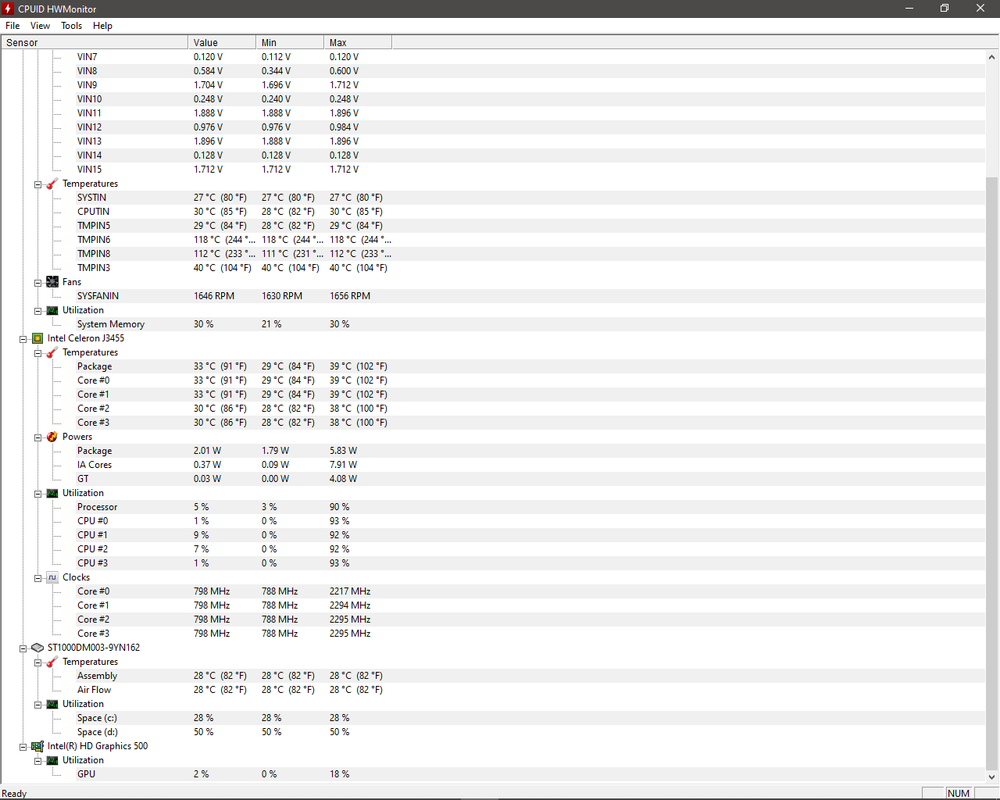 Things I have done to rectify this:
Monitor the temps in the unit with various programs as reported above there were really no super high findings. The worst I think it got was about 120F.
I don't play hardware intensive games. The most "intensive" games I play are Microsoft Sudoku, Solitaire and Mahjong. This is PC for surfing, email & working on websites.
I have run spyware scans, anti-virus scans and all kinds of related scans and found no infections, viruses etc.,
I formatted & reloaded the PC with a fresh copy of Windows 10 Home 64BIT thinking that possibly the virus/malware scans just did not find the culprit and reloading may "Fix" the problem. Obviously it has not.
So now I'm down to what piece of hardware is causing this annoyance since it continues even after a format & reload. Ideas & thoughts on what to try next?
TIA!