Hi everyone !
So I have just finished setting up my new build and I'm having some issues. It's a custom build machine I assembled myself. The components are listed at the end of the thread.
I'm having booting issues. It takes a little over a minute from password login to getting my actual desktop. I get like 40 seconds of Pleas Wait windows loading icon, and then about 20 seconds of blackscreen and THEN I get my desktop. After that it's rocket fast and acting like it should but the startup itself is just killing me.
I've read a little and have seen some pointers but up to now I could not solve the issue. Here's what I tried :
- Ran windows update and motherboard progam update, everything is up to date.
- Ran Soluto, it gave me a report of a little over a minute, I scraped around 10 seconds in useless stuff but, the report also shows some intriguing numbers (see picture attached).
- Ran CCCleaner, wiped pretty much everything I could wipe. Did not see a noticeable improvement.
- Re-Ran Soluto, saw the same numbers as before CCleaner
- Created a new windows user. This one booted up very fast, like my regular user should ...
So now I don't know what to do next. I do not want to let go of my user and use the new one, i'm sure there is a way to solve this, but i'm no expert and really don't know what to try next.
If anyone could help me that'd be really appreciated. I'm just about to reinstall windows from scratch ...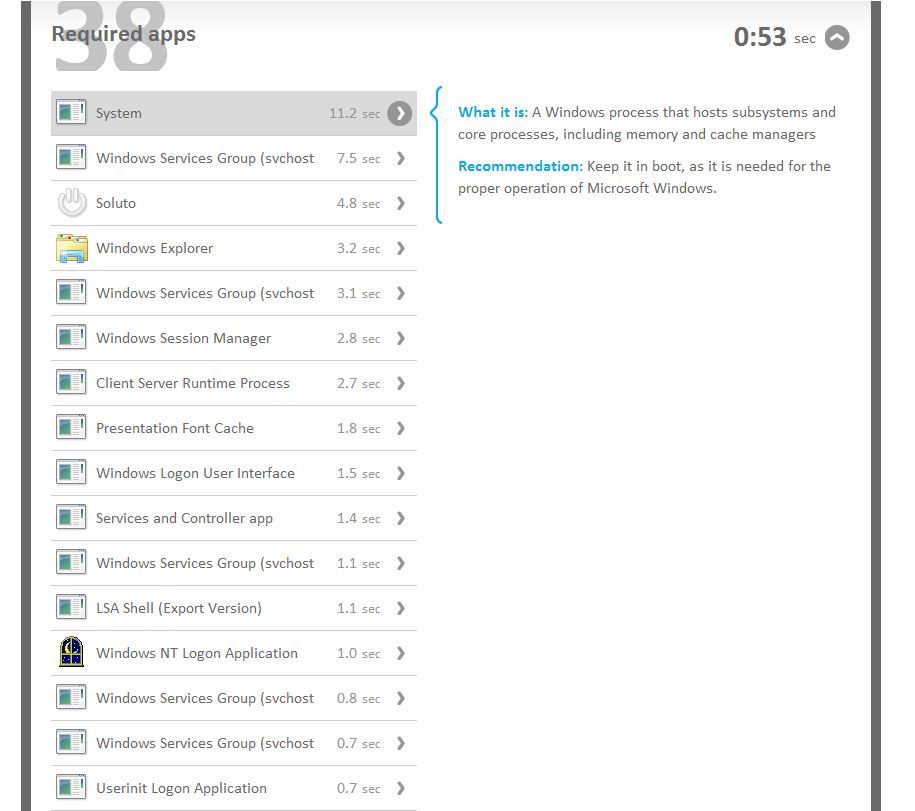 - MOBO : GA-Z77X-UD3H
- CPU : i5 3570k
- Ram : 4 X 4GB DDR3 1600 Vengeance Blue
- SSD : OCZ Vertex 3
- PSU : Cooler Master Extreme 2 725W
- Case : Fractal Arc Midi
- GPU : not yet purchased, currently running integrated lol
- OS : Win 7 Pro En