Friends,
I fried my mobo and am going to upgrade to nehalem. but i dont have money right now, and i am sitting totally idle. So i thought that why not design an efficient watercooling system for my soon to come pc?
There are problems though. i am totally new to watercooling. i dont know any of the criteria nor the reputable brands which are the components of a good watercooling system.. The good news is i am not a total noob and i have the brains for designing a good loop. This is my final loop.<sorry i didnt have any designing software except paint>
Explanation.
The loop is-- reservoir>pump>splitter>cpu/NB/GPU>joint>radiator>flow controller>reservoir
>radiator>reservoir.
till the radiator<air cooled> the loop is a normal one. but what i will do is attach a flow control to the outlet of the Rad. one pipe leading to reservoir and the other leading to a radiator in a fridge. I will purchase the air cooled rad and the fridge cooled one will be made by me. so that way even if i forget to turn the fridge on, the air cooled rad will hold.
I will be using CM Elite 334 case <mid tower>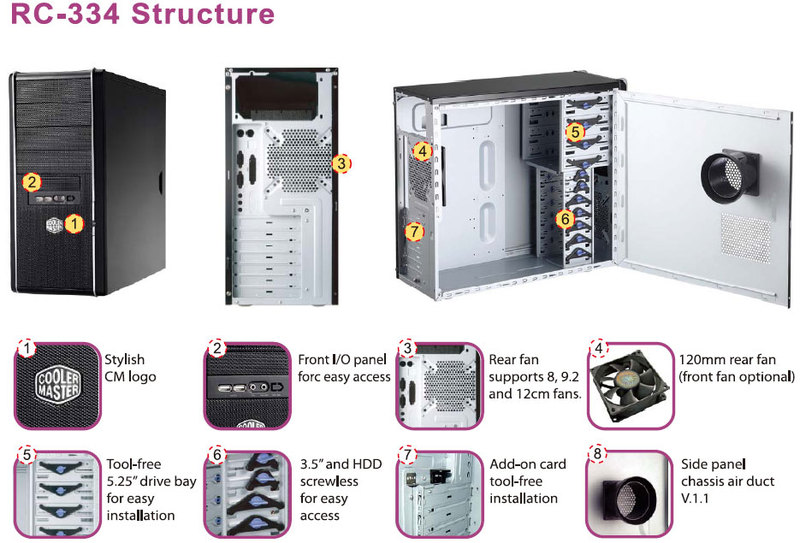 Now that u have seen the case....
My problems..
1. there will be only one drive bay for the reservoir. and i do not have the money nor the courage to mod my case to the extreme.. pls suggest a viable position for reservoir..
2. i cannot see space for a good pump. pls suggest if one would fit.
3. Since i am totally new, i dont have any idea abt what spec of a pump would be required.
4. How does the reservoir capacity affect the efficiency? is 1 liter enough for my loop?
5.what size of hosing will be required <diameter>??
6. Will my loop be efficient?
7. as far as i know, Frozen cpu ships to my country.<india>. pls quote any other site which ships to india or take your recommendations from frozen cpu itself.
8. i will be buying only the pump, waterblock, radiator and hosing from the market. everything else will be custom made by me.
9. I have About 250$-300$ USD for the above mentioned items. Please recommend the best suited for my needs.
10. thanks!!
Oh and as soon as i start building this thing, i will start a mod thread. keep Track!!