Hello guys,
I upgraded from Windows 7 to 10 about a month ago. I'm steadily getting used to it, but I can't seem to get rid of all the ridiculous prompts you're hit with by security.
I already lowered UAC to my liking(off) and disabled some options under smartscreen, like Apps and Files.
I keep getting inane prompts like these though: (sorry that it's in Danish)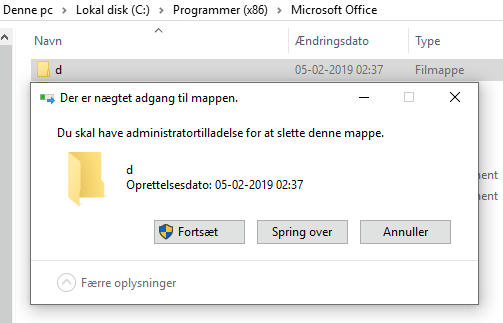 It says "Access denied to the folder" "You need administrator rights to delete this folder"(translated by me, the exact wording in English might be different)
And then I can continue because I AM an administrator, the prompt was never necessary and the empty folder I just created as a test didn't contain any crucial system files(shocker).
Seemingly at random it'll also give me these prompts when renaming and moving folders/files.
How do I get rid of it? To me, this is as bad as the bloatware a standard windows 10 comes with, it's pointless.