Hey everyone,
I recently have bought a Gigabyte B450M DS3H. I also bought a
5 pack of RGB Case fans (This one)
, which I want to connect to the mobo. But the motherboard has only one RGB related header I could find called LED_CPU with a 4 pin connection, and I don't know if I can connect the fans to it.
The manual doesn't say anything about fans, but it says
'Connect the CPU cooler LED strip/RGB LED strip to the header. The power pin (marked with a triangle on the plug) of the LED strip must be connected to Pin 1 (12V) of this header'.
And a picture showing PIN 1= 12V and other pins as RGB. That is exactly what it says on the FAN connection cable. The fans also have 2 Hubs to connect them to each other.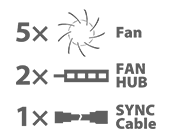 Is it safe to connect these fans to this header?
I was worried since it does not mention RGP Fans or anything.
Thank you all in advance.