I am looking at getting two monitors to replace my current old chunky ones.
Now I basically have a couple of choices, I can go with what I've already found, that saves me a little bit of money, and has what I would deem thin enough case bezels around the display for my needs, however, I am willing to spend a little more for even thinner bezels.
But the problem I run into is that the affordable options out there don't support VESA, and also unfortunately have this dumb design where they are super thin and only get thick at the base making it difficult to simply buy one of those adapters that grab onto the monitor top and bottom from behind.
So is there a cheap and viable way to add VESA support to these types of monitors?
An example of this type of monitor can be seen in this image
(click the thumbnail to get a bigger version)
as well as the VESA adapters I am talking about.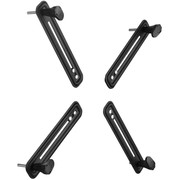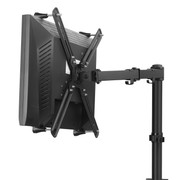 From these images, you can see how such adapters wouldn't work all too well with this type of monitor due to the fact that back of the monitor isn't the same thickness making it symmetrical and even, and is instead only thick at the bottom and super thin above that.
So what solutions would I be looking at for this kind of monitor or are there not any?