Hi guys, recently i just started mobile games live stream over facebook.
How i did live stream was using this software called "apowermirror" to mirror my phone screen to my computer. then use OBS capture it and live stream to facebook.
My problem is inside my phone the game play is 100% smoooth. no lag, no delay no nothing. just smooth.
BUT... my stream is choppy and laggy. like there are drop frames time to time and sometimes the audio tend to desynchronised.
During live streaming, stream indicator in facebook & OBS shows pretty healthy. (fps, audio, bitrate all seems normal)
After i examine a little, i notice that the choppy and laggy problem happens even without me live streaming (tho it may slightly less severe than during streaming).
Apparently it is choppy & laggy during the mirroring stage.
I tried a few different others mirroring software. by far i think apowermirror has done a better job compare to others.
Which... leads me to suspect my router is the root of the problem.
I did some research about it and in all honesty, it seems very hard for me to find such specific problem.
and im not a pro in network & computer stuff, so there are so many things i don't understand and i hope to get some answers here.
Below are my specs:
Tp-link Archer C1200 (default router by my service provider)
Iphone 7 plus
Windows 10
PC spec: Ryzen 2700, 32GB ram, gtx 1060 3GB
apowermirror (mirroring software)
OBS (broadcasting software)
As far as my understanding, internet speed is different from wifi speed. (please correct me if im wrong)
But I really fail to find a way to test wifi speed.
So I did some ping test as per below
Below is my house layout, where i sit during the ping test.
A & B is where i sit during the ping test. M is where the modem located. pink color are the walls. the rest are my furniture.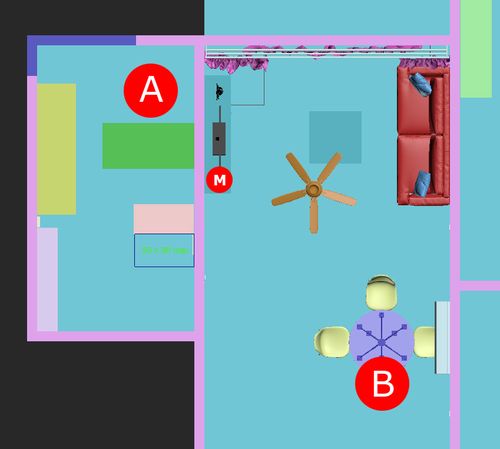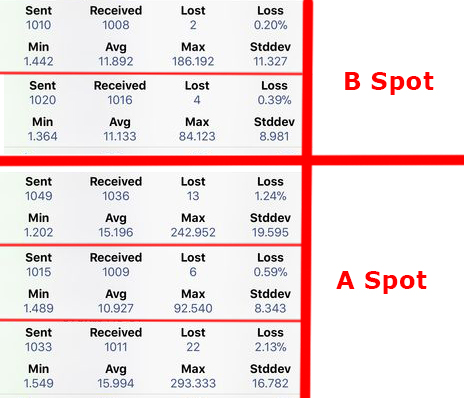 So my questions:
1- is the problem really indeed router problem? (I'm suspecting router but i'm not confident enough to say it is, coz my game play is really smooth. zero lag or delay & no drop frame)
2- If it is, any router that be recommended? I need to sit at spot A to play as my computer and stuff is there. If any obstacle between me and router would be minor distance, wall, desk, & monitor. Hopefully can meet my budget around 100USD. preferably below that.
3- If it is not router problem, what can it be? any mobile live streamer or any network guru here can shade me some lights?
I did some google and found a lot router recommended for game streamer.
But im not sure if they are right for me as i would assume most recommendation are meant for streamer directly from their computer.
I can't be sure those recommendation helps in my specific problem in mirroring phone screen to computer.
Elgato is way too expensive for me...
Last edited: