New build a couple of weeks ago.
Case:
Fractal Define R6 (USB-C)
Motherboard:
Asus Prime X570 Pro
CPU:
AMD Ryzen 3900x
Cooler:
Corsair Hydro H100i RGB (Top Mounted)
RAM:
32Gb (4x8 Corsair Vengeance 3600Mhz- CMW16GX4M2C3600C18)
GFX Card:
Asus GeForce GTX 1660 Super
PSU:
Corsair HX570i
Boot Drive:
Samsung 970 EVO Plus NVMe M.2 SSD 250GB
OS:
Windows 10 LTSC
PBO is enabled in the BIOS, D.O.C.P RAM profile is enabled. BIOS is updated to the most recent 2203. Windows 10 Power Plan is set to Ryzen High Performance.
Following on from
this thread
I have now replaced the stock AMD Wraith Prism cooler with a
Corsair Hydro H100i RGB
.
CPU Temp?
Screenshot showing HWMonitor and Corsair iCUE fan settings during a 1hr x264 encode below. For 95% of the time the CPU was at 71-75 degrees.
The machine will be doing a lot of x264/x265 video encoding , and so the CPU will be under heavy load. Is there an acceptable idle/full load temp range for a Ryzen 3900x, after a bit of research am I correct in assuming that mid 40's idle, mid 70's full load, is acceptable? I read somewhere that 88 is the wall?
Air Flow?
The H100i is mounted at the top of the case and currently blowing out. The manual states "
For the best cooling performance, we recommend mounting the fans as an air-intake to your PC case.
" This means that to have the fans as an air-intake, the fans would have to be mounted with the lighting rings against the radiator and the ugly side of the fans facing into the case!? I see no other way than to have it blowing out of the case?
Auto Boosting?
As in HWMonitor screenshot below, is that correct?
Tightening the thumbscrews holding the pump block onto the CPU is nerve racking! Tightened with fingers then just a couple of turns with small screwdriver to take the pinch. 😱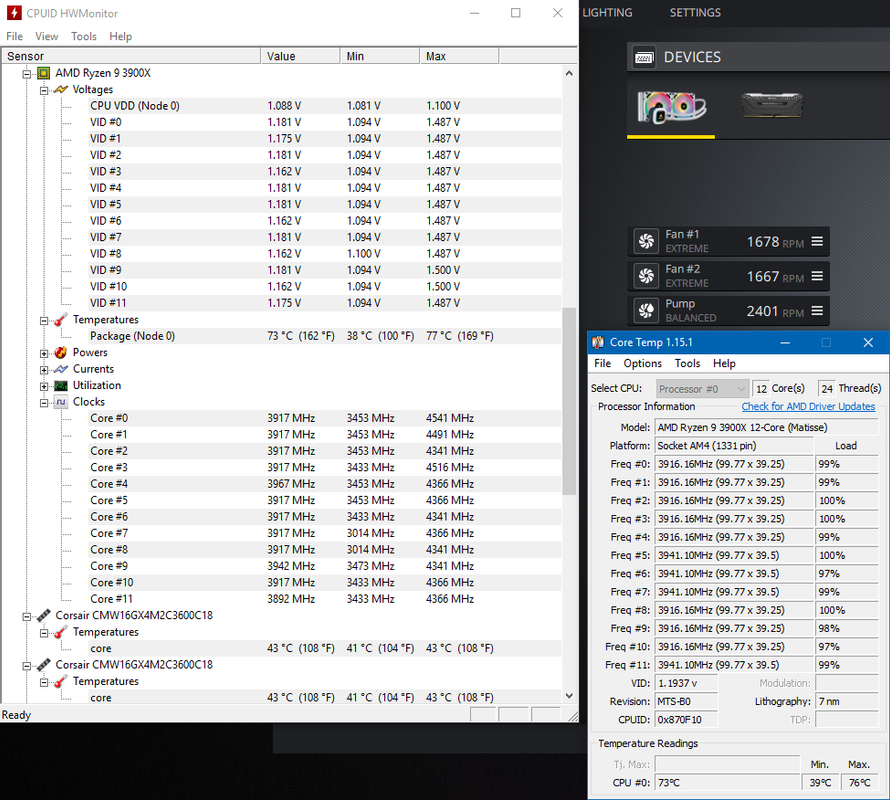 Last edited: