After my experiences with this i though i would create a bit of a topic explaining the issue and how i went about it. Some people might get a laugh out of it other might find it useful.
I upgraded my system over the last few days can be seen in this thread
http://www.tomshardware.com/forum/249841-28-lian-case-review-pics-included
and ran into an issue i didnt really account for. I wanted 2 GPU's in my machine to run 3 monitors easily, this was to be done with my old 7900gt and my new 8800gt. Now i bought the Thermalright HR-03GT to put on the 8800gt which happily installed ok in the first blue 16x slot in my motherboard an ASUS P5B-Deluxe: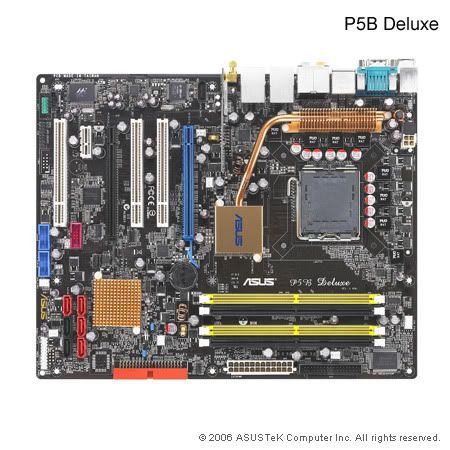 Here is where i can into the problem, the HR-03GT completely covered the 2nd black 16x slot, leaving me with a 1x and a PCI slot left (PCI was for my X-fi). No matter i thought the 7900gt will go into the 1x slot and work, just at less bandwidth (which didnt matter as it was only going to be running 2x19" LCD for desktop anyways).
Well, no im stuffed the PCI-e 1x white slot is closed (stupidest idea EVER) so the rest of the length of the connector will not be able to hang out the back of the port as it should...
Heres where i went a little crazy, "Well i recon a stanely knife will make short work of that". Well i was wrong, the plastic is extremely hard and even my best stanely wouldnt make much of a mark in it.
Now after a days thinking i had a ... well what some would call a bright idea and some would call ridiculous.
Soldering Iron, I thought this is easy ill just burn and melt the pastic away and ill end up being able to put the card in. So here are the results...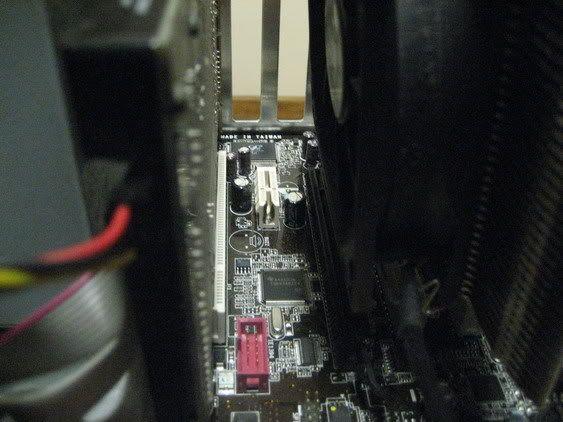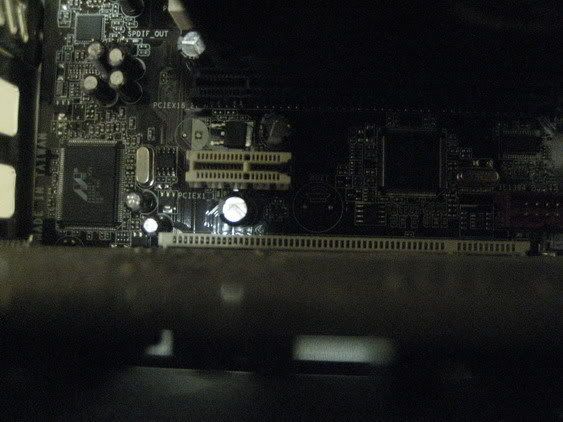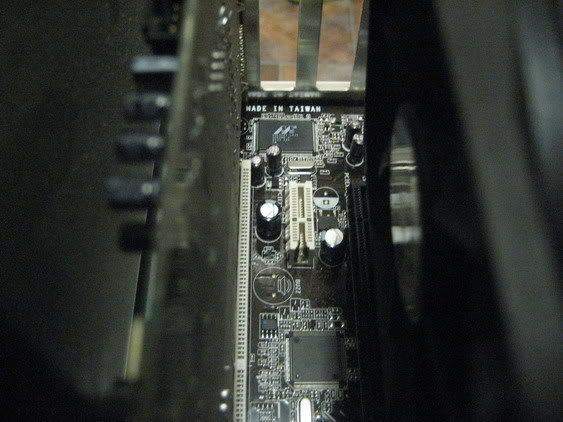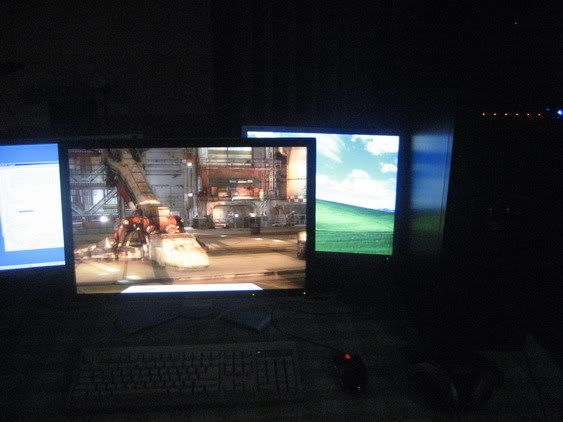 Pictures tell the story... 3 monitor goodness, with a soldering iron to the motherboard
I would just like to say, if you value your motherboard at all i wouldnt recommend it. I knew i had a spare one and knew if it didnt work at worst i had wrecked a board. But it worked and im all happy now