Hi,
This morning I had a popup that Microsoft needed to install some updates, I agreed and rebooted my system, but now I don't have any thumbnails anymore for MP3 / MP4 / PDF files.
I'll focus on the MP3 extension here, normally the file itself has the cover art shown as a thumbnail and now all MP3's look the same, they all have the icon of the program which I open them with.
Another thing I notice is if I go to a directory with MP3's, all columns such as artists/title/length etc are empty (they used to contain data), see the first attachment "FileExplorer.jpg". If I open my MP3 files with MP3Tag (a tool to add metadata to MP3's, see the second attachment "MP3Tag.jpg"), I see that the cover and the metadata is still there. So I think it is a display issue in my explorer.
In the third attachment "Desktop.jpg" you can see that for images (green rectangle), the thumbnails are still working, but for MP3/MP4 they are not shown anymore...
I run Windows 10 64 bit
I already tried:
File Explorer > View > Options > View > Always show icons, never thumbnails = UNCHECKED (+ restart computer)
Windows Performance Options > Show thumbnails instead of icons = CHECKED + Save taskbar thumbnail previews = CHECKED (+ restart computer)
C:\ drive > Properties > Disk Cleanup > Thumbnails CHECKED (+ restart computer)
Ran the bat file from the tutorial Clear and Reset Thumbnail Cache in Windows 10
Ran CMD as administrator > sfc /scannow
Nothing seems to work at this moment.
ATTACHMENT 1: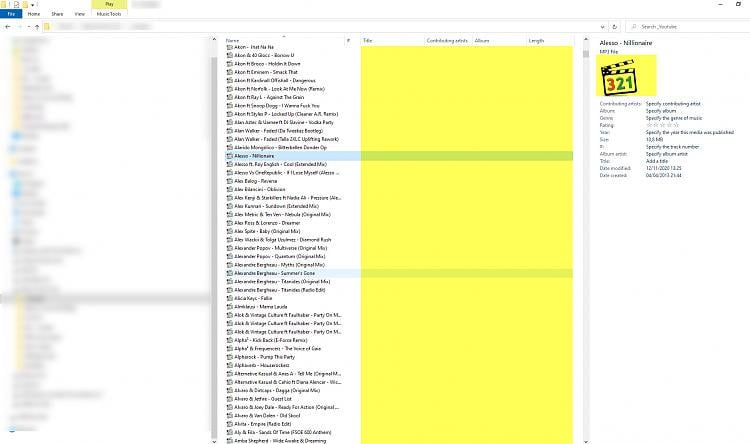 ATTACHMENT 2:
ATTACHMENT 3:

Last edited: